« Persuasion Parallels Between Comedy and Copy, Through the POWER of Story Telling… | Home | From Gym Teacher to Info-Marketing Multi-Millionaire… »
By Daniel Levis | June 12, 2014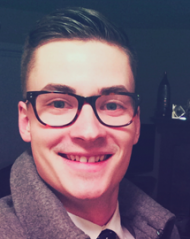 Kevin started his entrepreneurial life at the ripe young age of 16 and by the time he turned 20 had become a bonafide Social Media Super Star.
Before becoming one of the internet's youngest and most respected Social Media Experts, Kevin cut his teeth building and selling websites for himself and clients. 
Once social media started to become mainstream, Kevin's clients began beating down his door, asking for his help to build a following and increase their authority… and the rest, as they say, is history.
Kevin says the ever changing landscape of Social Media comes as second nature to him, because he grew up in the game.  And once he saw it was here to stay, he jumped in with both feet, full time when he founded his company "Easy Button Social Media", a 100% hands-off, completely Done-4-You social media service company, that continues to grow steadily.
If you are confused about social media… if you are stuck trying to figure out how to MONITIZE it… if you want the inside scoop on fast tracking your success and using social media as a profit center, you don't want to miss this podcast interview.
Click the play button below to hear how to not just engage but PROFIT from your social media efforts.
Cast of Characters: Andy Thompson, Moderator… Daniel Levis, Host… Kevin Pasco, Special Guest and Founder of "Easy Button Social Media"… plus Groovy Music by Dr. Joe Vitale
Topics: Mid Month Marketing Magic Hour Podcasts | 9 Comments »
9 Responses to "Streamlined Strategies for SELLING with Social Media"