"A fantastic salesman-in-print."
It was the highest honor I'd ever received, and likely ever will…
… To be called this by the legendary copywriter Clayton Makepeace, whom I'd had the amazing good fortune of working with as a Copy Cub early on in my career.
Anyone who's studied the works of the legendary ad men of the past 100 years knows it's one of the greatest compliments anyone can bestow upon a copywriter.
The term "salesmanship-in-print" was coined by the advertising genius John E. Kennedy, who famously said that good advertising is…
"… merely salesmanship multiplied. Multiplied mechanically, by the printing press.
"With the salary of a single salesman, it is now possible to reach 1,000 probable customers for every individual that salesman could have reached personally."
If only he'd been alive for the advent of the Internet…
… Where it's now possible to reach hundreds of thousands – even millions – of people with your sales message at the push of a button!
He'd have been like an 8-year-old kid locked inside a Manhattan-sized candy store.
"If You Wish to Know What Advertising Is…"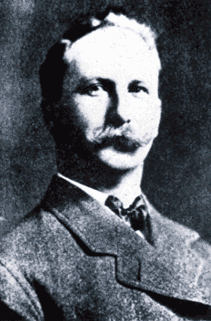 As the story goes, it all started when the unknown John E. Kennedy (a Canadian policeman, a.k.a. Mountie, turned copywriter) sent a note to A.L. Thomas, head of the Lord & Thomas advertising agency.
Scribbled on a piece of scrap paper, the note read:
"I am in the saloon downstairs. I can tell you what advertising is. I know you don't know. It will mean much to me to have you know what it is and it will mean much to you. If you wish to know what advertising is, send the word 'yes' down by the bell boy."
Signed–John E. Kennedy
Thomas refused to waste even a moment on the pompous and arrogant scribbler.
In fact, the Chicago adman is said to have muttered, "The man must be crazy!"
The note would have surely ended up in the trash had it not been for Albert Lasker, who heard the ruckus and decided to investigate.
Lasker was a rising star at Lord & Thomas, the third largest ad agency in the world. At the age of 24, he was made a junior partner and paid a salary of $52,000 per year.
This was 1904, mind you… a small fortune at the time.
Yet he didn't know, to his satisfaction, what advertising was – and he hadn't been successful in finding anyone else who knew – though he'd been searching for it for more than 7 years.
Starving for the elusive answer, he lumbered down to the saloon below.
In That Historic Meeting, Three Words Were Whispered That Changed the Face of Advertising …
Here's how Lasker described the chance meeting in his autobiography, The Lasker Story:
"… So Kennedy said to me, 'Do you know what advertising is?'
"I said, 'I think I do… it is news.'
"I said I thought I knew what advertising was – news – just exactly as the old sailors and astronomers thought the world was flat, and thinking the world was flat, they had worked up a system whereby they had quite a world. But Columbus came along and showed them the world was round. And that is what Kennedy showed me.
"He said, 'No, news is a technique of presentation, but advertising is a very simple thing. I can give it to you in three words.'
"'Well,' I said, 'I am hungry. What are those three words?'
"He said, 'Salesmanship in Print.'"
Lasker's mind began to reel with excitement.
It was such a simple, basic concept as to be overlooked… yet so incredibly effective.
As the most legendary of ad men, David Ogilvy, would later describe it, "… salesmanship in print, a definition that has never been improved."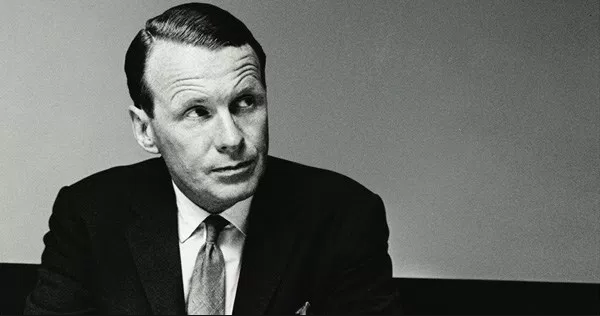 After being exposed to this powerful concept, Lasker commissioned the brilliant Kennedy to transform his principles into a series of lessons, which were then used to train Lasker and the Lord & Thomas copywriters.
Soon after, Lord & Thomas became the training center for the advertising world.
As legend would have it, their copywriters were so good that other agencies began luring them away with, as my 12-year-old son would put it, ginormous salaries.
So the magic of Salesmanship-in-Print spread like wildfire to other agencies…
… The movement came to be known as the "Reason Why" school of advertising…
… And as David Ogilvy said in his book Ogilvy On Advertising, "Albert Lasker made more money than anyone in the history of the advertising business."
Lord & Thomas, under Lasker's direction, would go on to make a fortune for its clients… helping to make household names of Quaker Puffed Rice and Puffed Wheat, Palmolive, Van Camp, Oldsmobile, and Pepsodent…
… As well as being responsible for creating the orange juice market virtually out of thin air, which put the California orange growers in business.
But the real proof today is in the fact that those who use these principles are among the most successful direct marketers, online marketers, and business people in the world.
Chief among those is salesman extraordinaire, Zig Ziglar.
"You Can Have Everything In Life You Want…"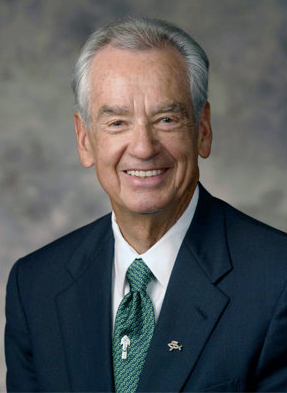 He was arguably most well-known as a prolific author and motivational speaker.
A consummate storyteller and deeply caring, with an unshakeable enthusiasm for life…
… His words had such grace, power, and amplitude as to cut directly through you, bypassing your conscious brain and deep-diving straight into your soul.
But he was also a veritable Master of Sales.
He was top salesman for several sales organizations, finishing second in national sales in an organization of over 7,000 salespeople and first in another with over 3,000…
… 10 of his 25+ books were bestsellers, with 8 of those hitting the bestseller list the instant they were published…
… And he made more primetime television appearances than you can shake a stick at.
I was first introduced to Zig Ziglar when he spoke at Peter Lowe's Success 1995 to a packed auditorium in Nashville, Tennessee.
I was so impacted by what I heard that day, I still have the program from the event: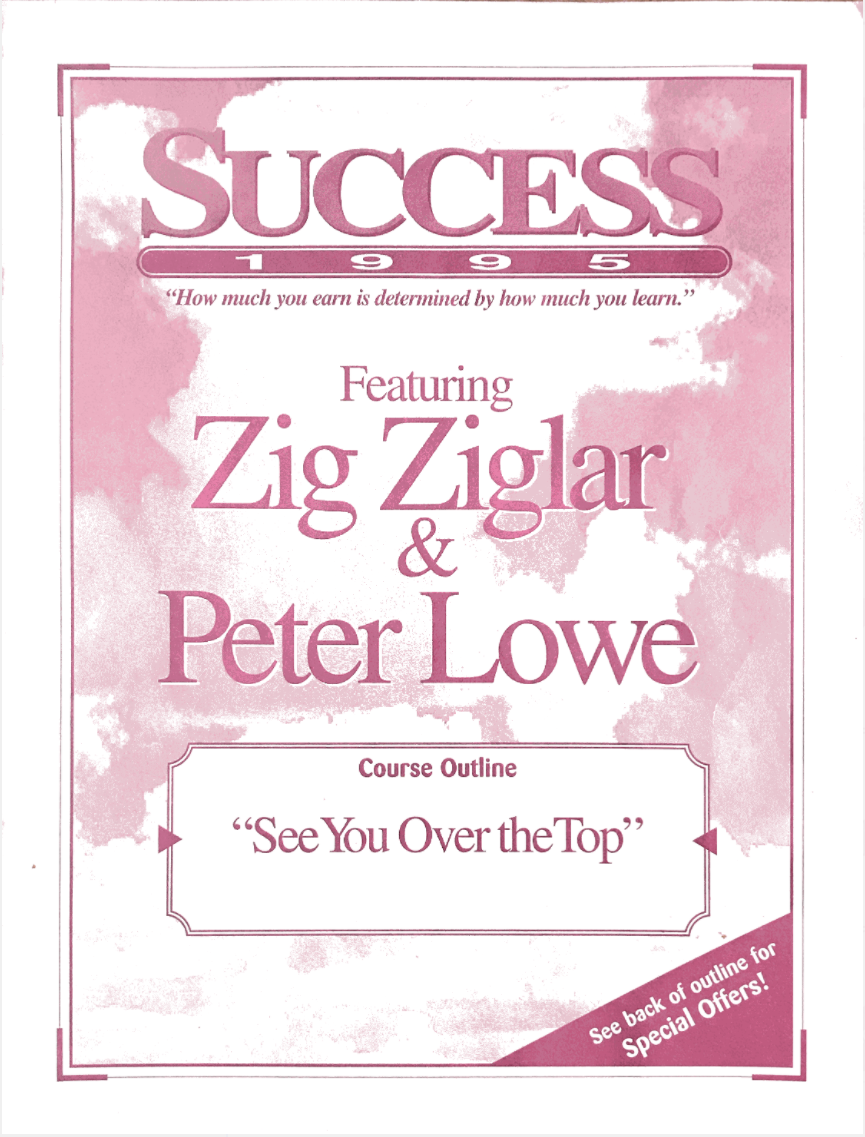 As I recall, the line-up of movers and shakers also included former Chairman of the Joint Chiefs of Staff Colin Powell… former first lady Barbara Bush… gold medal gymnast Mary Lou Retton… Christian televangelist Dr. Robert Schuller… and top sales trainer Tom Hopkins… among others.
A rock star cast, for sure… especially in the eyes of a wide-eyed 20-year-old kid like me.
But it was Zig who stole the show that day, at least in my mind.
Some of the gems he presented that day…
"Failure is an event – it is not a person."
"Yesterday ended last night – today is a brand new day – and it's yours!" 
"You can have everything in life you want – if you will just help enough other people get what they want."
"It's not what happens to you – it's how you handle what happens to you."
"Motivation gets you 'going' but habit gets you 'there.' Make motivation a habit and you will get there more quickly and have more fun in the process!"
"Your attitude, not your aptitude, will determine your altitude."
"You don't have to be great to start, but you have to start to be great."
These little gems – or shall I say, diamonds – served me well on my journey to becoming a copywriter and online marketer, and they continue to serve me to this day.
But it was the success checklist on page eight that would ultimately have the biggest impact on me as I began my journey down the road to success…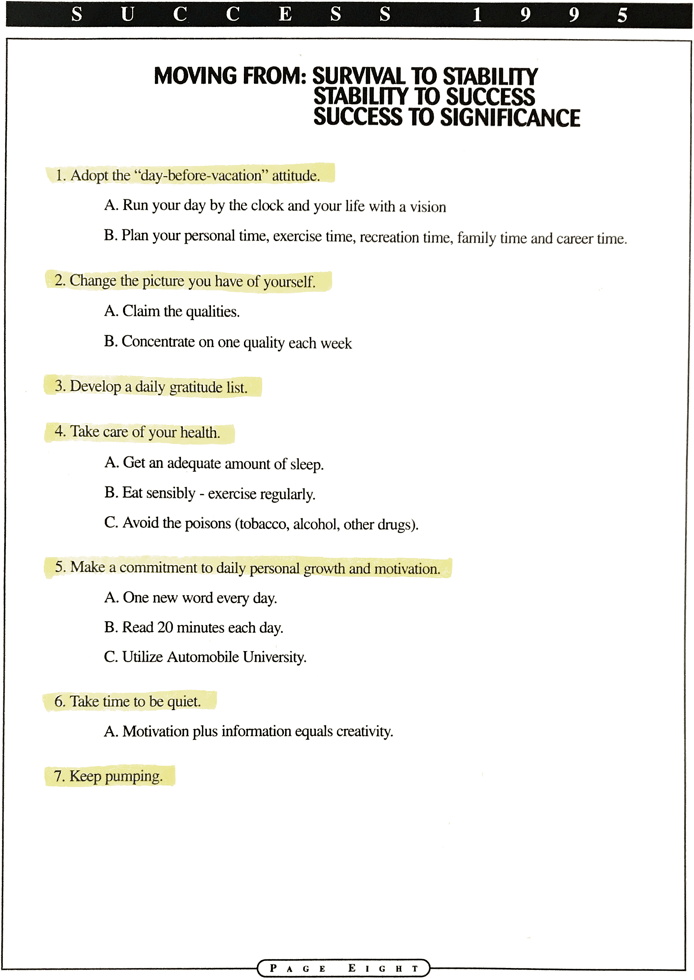 It's a relatively simple list at first glance.
But taken altogether, and put into daily action, you'll have the keys to the kingdom, whatever that may mean to you personally.
Of course, there's more to achieving success than your personal habits.
If you want to be a successful online marketer and entrepreneur, you've also got to have the sales and marketing chops to make it happen.
The Secrets to Sales Success, Delivered to Your Inbox…
Watch your inbox tomorrow, January 15th, for a very special follow up to this post.
I won't give you the full details here, but you'll get access to a free download revealing Zig Ziglar's 14 essential lessons for successful selling.
As he was fond of saying, everyone is in the business of selling.
The only questions are, what are YOU selling and how do you rise to the top?
Tune in tomorrow to find out in classic Zig storybook fashion.
Oh, and did I mention, it's free?
In the meantime, two quick things:
FIRST, take a couple of minutes now to check out this inspirational video that's already received more than 3.2 million views in just 5 days:
This quick 4-minute video is all about how Zig went from being pronounced dead just 9 days after his birth… to selling pots and pans door-to-door… to selling over 30,000,000 books!
SECOND, it's time for you to chime in…
What does "salesmanship in print" mean to you?
Do you have any Zig Ziglar stories to tell?
Leave your comment below!
Until next time…