The occult… flowers… sex… photographic memory… fishing lures… weight loss… spark plugs.
You name the category and he created brilliant advertising for it.
But that's not all.
He also gave us priceless tips on super productivity, deeper persuasion, and brilliant tricks and techniques for advanced copywriting.
So today you're getting some "quick hits" for faster production and higher profits.
Stay tuned if you'd like to …
>>> Work less but get A LOT more done…
>>> Use the best formatting to rivet your reader's attention…
>>> Create irresistible bullets — FAST…
>>> Do the easiest research for fabulous marketing…
>>> Give your customer instant gratification BEFORE they buy…
How to "Channel" Gene's Genius …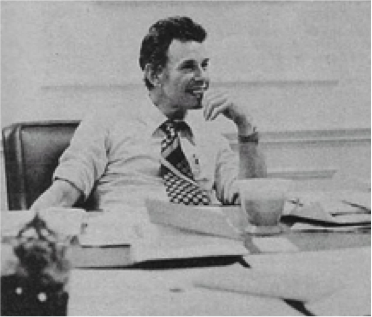 Of course, I'm talking about the legendary Gene Schwartz… and we're going to take a quick look at one of his lesser-known, but highly-instructive ads.
PLUS, I'll give you a few key hot-points from the famous copywriting lecture he delivered in 1994 for the staff of mega-publisher Rodale.
So let's get started with one of his famous ads… with this amazing headline:
How modern Chinese Medicine helps


BURN DISEASE RIGHT OUT OF YOUR BODY


… lying flat on your back, using nothing more
than the palm of your hand!
I know, it's a killer headline.
And notice how you actually have 3 headlines in one and each has a different font size.
So first, there's the BOLD capitalized headline which stops you in your tracks.
Then the short headlines above and below give you more information and magnify the impact of the BOLD headline.
Schwartz was famous for his headlines.
So famous in fact, that I want to give you a few more for your swipe file:
To The Man Who Will Settle For Nothing Less Than The Presidency Of His Firm!
Work All You Want! And be a BETTER WIFE and MOTHER because of it!
If You're Over Thirty — This Is The Best Exercise You Can Do For Your Face, Your Body And Your Heart!
Hollywood plastic surgeon releases 7-day Crash Course towards dazzling new youth and beauty. (At Last! Instant Beauty!)
Sweden's Miracle Formula That Makes Skin Look Young Again.
Secrets of Eastern Supermen Revealed to The West At Last
Doctors in Sweden Say There IS a Cure For Arthritis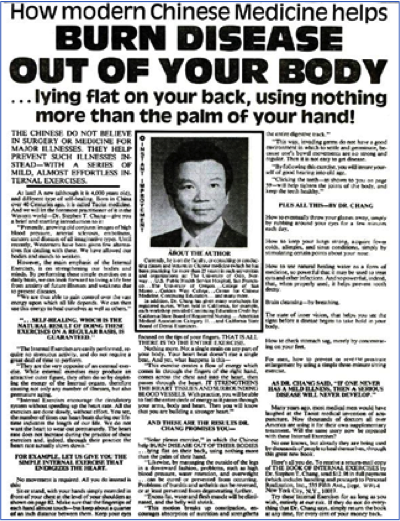 OK, now here's the full-page ad.
There's a link below to download this beauty.
And as always, I advise you to use Gary Halbert's foolproof technique to become a FAR better copywriter.
And that is to copy and write it out longhand if you want to make the best use of Gene Schwartz's genius.
Then read it out loud every day for a month.
I guarantee you'll notice your own writing makes a significant jump as Gene's influence begins to pour through your fingers.
Dual Track Persuasion …
Schwartz is a master at coming at you with multiple pitches with multiple formats from multiple directions.
Notice how you've got a masterful interplay of text in different fonts, quotes, subheads, and bullets.
And of course, the subheads are a separate "dual track" that gives you most of this intriguing story without having to read the text.
Examples are…
…SELF-HEALING, WHICH IS THE
NATURAL RESULT OF DOING THESE
EXERCISES ON A REGULAR BASIS, IS
GUARANTEED.
FOR EXAMPLE, LET US GIVE YOU
THE INTERNAL EXAMPLE THAT
ENERGIZES THE HEART
AS DR. CHANG SAID, "IF ONE NEVER
HAS A MILD ILLNESS, THEN A SERIOUS
ILLNESS WILL NEVER DEVELOP."
Fast, Free, Effortless, and Simple!
Another exceptional technique is the way Schwartz makes it sound so darn easy.
It's like I heard John Carlton say one time.
You want your product to be so effortless that you go to bed depressed, dumb, fat, and broke…
… But you take a pill and wake up successful, rich, thin, smart, and popular.
So here are a couple of examples of Schwartz's highflying handwork…
"The Internal Exercises are easily performed, require no strenuous activity, and do not require a great deal of time to perform."
"Clicking the teeth—as shown to you on page 59—will help tighten the joints of the body and strengthen the teeth."
"Nothing more… not a single strain on any part of your body."
"How to eventually throw your glasses away, simply by rubbing around your eyes for a few minutes every day."
"Brain cleansing — by breathing!"
Wisdom for the Best and the Brightest …
Now finally, here are some highlights from the Schwartz copywriting lecture.
As I said, this was a private presentation to the copywriters of one of the best publishing companies at the time.
Here's a few of Gene's gems:
"I work three hours a day, five days a week. That's all I work. After three hours, I get very tired… and I go work someplace else. But it's enough that I can do this because I am better prepared than anyone else."
"The person who is the best prepared and the most knowledgeable makes the most money. It's so simple."
"Copy should never call attention to itself. Words in advertising are like the windows in a store… you must be able to look right through them and see the product."
"You've also got to remember that you're never selling anything. Never, ever, ever, ever, sell anything. In mail order you ask a person to TRY something."
"You're writing to an individual, single person always, who shares a problem or a desire with a huge mass of other people."
"The greatest asset after hard work is the ability to listen. You have to listen to several different layers out there in order to be successful. You have to listen, first of all, to the person who has the problem you are going to try and solve. You have to know that person so well that you can sound like him and he will mistake you for his mirror image. You have to know the kind of society he comes from, the layer of society he comes from. And finally, you have to know the society."
"When you go to a party, when you get in a taxi cab, when you're with somebody on a bus or a subway, your job is to ask questions, show appreciation, and listen."
OK, that's all from Gene Schwartz, except one thing.
The Schwartz Secret for Getting More Done …
He's the guy who only worked in 33 minute bursts.
Schwartz sets an alarm and goes whole hog for 33 minutes… absolutely full out.
Then he rests for 10 minutes or so and does it again.
It's a great cure for procrastination—knowing you don't have to hammer it out all day.
And yes, you MUST force yourself to stop in the middle of a sentence, which makes it even more powerful.
You'll be itching to come back and finish that dangling thought.
Anyone can come up with 33 minutes.
So go for it!
Here's Dr. Chang's famous ad.
And leave your comments. We appreciate the feedback.