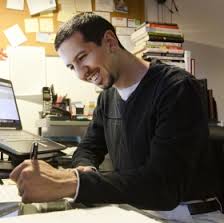 There has been a lot written about Product Creation over the years… and with so much conflicting information on the web, it's hard to decipher who knows what's up and who is blowing hot air.
Well the proof is in the pudding…
Mid Month Marketing Magic Hour Special Guest, Danny Iny has a lock on what works because he's proven it, time and time again. And in this short but power packed interview, he'll share a mind opening Paradigm shift that practically guarantees your next product is a bat cracking grand slam!
We hit the ground running at the 1-minute mark as Danny outlines the "iterative product creation" breakthrough…
At 8:18 Danny shares his process for coming up with a fully outlined and READY TO DELIVER product in just 4 days… this is pretty sweet and something I've practiced for years.
And at 12:20 Danny reveals his philosophy on how many modules to offer in your pilot program… and how to structure the premium content of the full training, so it flows and digs deeper into the subject matter…
And much more.
Check it out:
For the next 3 days Danny is opening the doors to his BRAND NEW Course Builder's Laboratory – How to Create and Sell Blockbuster Products in 2015 and Beyond
As always, enjoy the value Mid Month Marketing Magic Hour delivers and leave us a comment below.
Cast of Characters: Andy Thompson, Moderator… Daniel Levis, Host… Danny Iny, one of the most respected educators on the internet…. plus Groovy Music by Dr. Joe Vitale