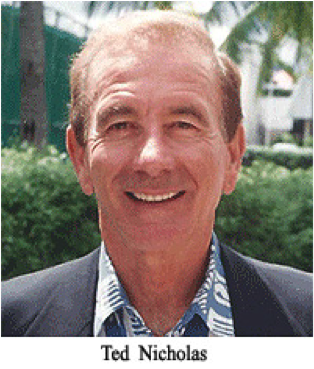 Ted Nicholas is one of the most successful and revered copywriters and information marketers alive today. His copy, and marketing brainstorms have been directly responsible for more than $5.7 BILLION in sales over the span of his 50 plus year career.
Ted's remarkable copywriting skill allowed him to turn his first information product, a book called "How To Form Your Own Corporation Without a Lawyer for Under $50" into one of the best selling business books of all time.
He wrote literally hundreds of ads that appeared in national newspapers and magazines to sell the book… split tested dozens of different appeals… and scrupulously tabulated the results.
…Can You Tell A Break-Even Ad From A Blockbuster?
Below, you'll find the headline and lead from two ads that Ted used to sell "How To Form Your Own Corporation Without a Lawyer for Under $50". One of the ads broke even, and the other was a blockbuster money-spinner that made Ted millions. Can you guess the winner just by looking? If you can guess correctly, John will send you a link to the mp3 recording of a live interview I did with Ted, called "Confessions of The $5 Billion Dollar Man".
Are you ready? Go ahead and study the headline and lead from both ads. Then post a comment telling me which one you think was the blockbuster winner, and why. Keep in mind that results were tabulated across a wide variety of general interest business-oriented magazines and newspapers.

I love my wife. And I understand why she wants me to keep my mouth shut. She wants to protect me from the IRS.
But I can't be quiet any longer. I'm angry. We are really getting jerked around. And I'm tired of it.
The government says one thing. And then does the opposite. Especially Bush. And I even voted for him. One of my biggest mistakes.
First the Feds talk tax cuts. Then they increase taxes. Remember the "read my lips" promise. Who are they kidding?
Average tax payers, you and me, are getting screwed.
The new law doesn't bother the rich fat cats much. They still have loopholes galore. Let's face it. They always will.
But recently I ran across a workable angle. It's cheap. And it's legal. It's meant for the rich. But it's perfect for us little guys. You don't need any money. And we can get the same breaks the rich get.
I can hardly believe it. Get this. I formed a corporation. Of my own. For peanuts.
It's my way of fighting back.
Now I have a small one man corporation. I operate out of my apartment. My work? I'm a commercial designer. Brochures, fliers– stuff like that. On my income I didn't think I could save much. But I'm paying almost zero taxes. And it's legit. Just like big business does it. I have no guilt. Uncle Sam already gets plenty. Too much from all of us.
One thing the feds didn't bother much under the new tax laws–corporate tax goodies. Guess they figured right. Burden business too much. Result? No jobs for anybody. Including them. Not to worry. They know better.
From a buddy, I heard about this unusual book. It's called HOW TO FORM YOUR OWN CORPORATION WITHOUT A LAWYER FOR UNDER $50, by Ted Nicholas. Damnedest book I've ever seen. Has the forms right in it. Pages are perforated. You just fill in some blanks, rip 'em out, and mail them in. A couple of days later you've got a corporation. No wonder it's a bestseller. (They tell me over 650.000 copies have been sold.)
OK, so you get the gist of it. Homespun, buddy to buddy. The main appeal is tax savings. The dominant emotion is anger.
How do you think it stacked up against the one below? Same book, same offer. Totally different ad…

It's downright scary.
As a self employed individual, your home, car, stocks, and other personal assets are always at risk.
The big fear is that a business disaster, which is beyond anyone's control, could happen to you. An accident, lawsuit, or financial loss… events which happen every day… could wipe you out.
A major problem is that we live in a 'litigation-happy' society. It's often a dangerous and naive assumption to believe that no one will ever sue you. A law-suit could be filed by a customer, supplier, relative, or disgruntled employee. In fact, there is a strong probability you will be sued in the near future even if you are very careful. You could lose, often on some technical point of law with which you are unfamiliar. If so… boom! Just like that you could lose your business. In addition, your home, cars, cash, stocks, bonds, and other assets could also go down the drain without proper protection.
Fortunately, you personally can avoid this risk. How? Incorporation.
The only way to separate business from personal assets is by forming your own corporation. Almost no amount of insurance can protect you from all kinds of risk like incorporation can. And you can do so even if you're the only employee. In this way, if the worst happens, you lose only what is invested in the business itself.
Incorporation is also important for the doctor, dentist, or other professional. Unfortunately, many are dissolving their professional corporations because of the new Keogh rules. However, many are unaware of the risks they are taking.
An incorporated physician does not avoid personal liability in conducting his profession, during surgery for example. But he/she does protect personal liability just like any other business person when it comes to debts incurred by the practice, non medically related lawsuit judgements, leases, investments which go sour etc.
But a word of caution. Misinformation about incorporation abounds. If any of your advisors have recommended you not incorporate or dissolve your corporation… whether you have employees or a one-person corporation… you'd be smart to consider the facts. Only then would you be in a position to make an informed decision.
Myth – Keoghs have been…
OK, that should give you the tone and flavor of this one. Here, the dominant emotion is fear. And the ad is selling protection.
Post a comment, and give me your answers to these two burning questions:
1. Which ad is the million dollar ad?
2. What's your reasoning?
Remember, pick the million dollar ad correctly, and John will send you the mp3 interview with Ted, "Confessions of the $5 Billion Dollar Man".