So you've got a brand-new niche market dead in your sights…
… You just know your revolutionary new product or business is awesome…
… You know there's nothing else like it on Earth – anywhere…
… And you know it's going to sell like cotton candy at a carnival, and you're going to be richer than Midas – just as soon as the world finds out about it.
"I can't believe nobody thought of this," you muse. "Muahaha, I'm gonna be rich!"
Visions of mansions, BMWs and yachts dance in your head.
You marvel at the stupidity of other entrepreneurs who've overlooked it… a lack of foresight, creativity and vision on a truly stupendous scale.
It's a good thing you're smarter than all of them!
Oh, the craziness of it all.
Well, haha… bear with me for a moment while I chuckle.
First to Market, First to Casket
Let's get something straight.
The so-called "first mover advantage" is a myth.
Even the creators of this time-worn phrase (Stanford Business School professor, David Montgomery, and his co-author, Marvin Lieberman, who first popularized it in a published paper in 1988)…
… Tried to stuff all of the worms back in the can in a follow-up paper published 10 years later, to a serenade of crickets.
By then, the damage had been done.
The truth is, being the "first mover" is generally a bad idea.
As legendary startup entrepreneur and Venture Capitalist, Steve Blank, author of The Four Steps to the Epiphany is fond of saying…
It's easy to spot the trailblazing pioneers… they're the ones laying on the ground with arrows in their backs.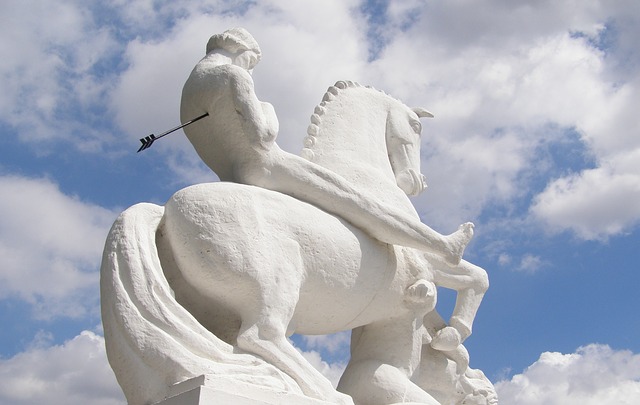 I love this saying.
It shreds the glorious Hollywood image of the young Silicon Valley genius that invents a hot new startup and sells to Google for a billion dollars…
… And it cuts straight through to the gory truth.
That in 99.99999999% of all cases… it's first to market, first to casket.
So What Does All This Have to Do With You?
Well, the same applies to starting an online business.
Unless you have tens of thousands of hours, and millions of dollars, to blow on testing or "creating" a market (chopping down trees, clearing pathways, staking your claim, HOPING it will all work out)…
… You want to be what Steve calls a "fast follower," rather than a "first mover."
In simple terms, let the pioneers blaze the trail and figure out what works. Then simply model what's working, while putting your own unique twist on it.
Let them suffer the trials and tribulations, while you enjoy the spoils with much less effort.
So now that we've got that straight…
Where Passion, Skill, and Demand Intersects: How to Choose the RIGHT Niche Market for You
The ways and means to research a niche market could fill an entire course.
In fact, you'll find a complete module on it in your Fellowship Fortune In A Box training program, which you get as a member of EMAIL ALCHEMY "ELITE."
For now, let's take a look at one of my favorite methods that you can use immediately to discover the right niche market for you.
A market you not only love, but will sustain you financially.
Now I go deep on passion here.
To be clear, you don't have to be passionate about a market to make money. But in my humble opinion, life is far too short not to be passionate about your vocation. If money is the only thing that drives you, then what follows isn't for you.
The great Mark Twain once noted…
"The secret of success is making your vocation your vacation."
'Nuff said.
So here's how this method looks in action…
Start by drawing a Venn diagram on a piece of paper.
A Venn diagram is simply three circles, connected or overlapping in the middle.
You'll fill these three circles by answering a series of "what" questions.
The FIRST circle represents your passions and interests.
What do you love talking about more than anything?
What would you read, listen to, and watch videos on (and continue to be interested in and intrigued by) even if you never made a dime doing it?
What activity soothes your soul so deeply, you often lose track of time?
What would you consider a "labor of love" if it's all you had to work on each day?
The SECOND circle represents your skill and knowledge areas.
What areas have you already developed some level of skill in?
What areas have you already acquired knowledge in by attending seminars or workshops, college classes, or some form of professional development?
What subject would you love to study and learn more about?
What subject would you be willing to develop the level of mastery in that's required to create a profitable business as an expert?
The THIRD circle represents market demand.
What markets have fast-growing opportunities and potential for growth?
What markets have a high income potential… meaning people are already paying for information, services and products?
The third circle is self-explanatory.
If your ultimate goal is to build a profitable business that will support you financially, then you only want to enter a niche market where people are spending money.
The middle area, where these circles overlap, is your HOT ZONE…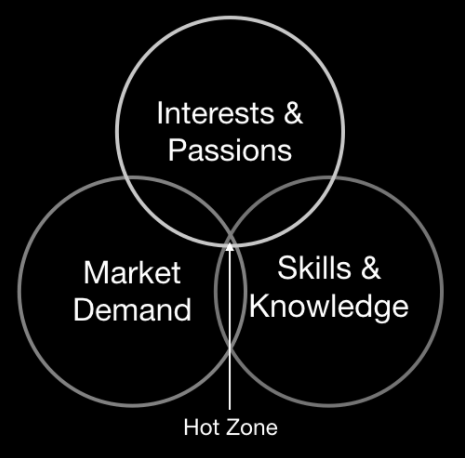 In simple terms…
Where your passions and interests intersect with your top skills and knowledge areas, in a market with some measure of demand, therein lies your Hot Zone.
Bottom line: You want to find a niche market you're passionate about building a business in, but you want to be realistic about its potential success.
Who can argue with that?
7 Quick and Easy Ways to Discover the Profit Potential of Any Niche Market
This is the process I personally use to help decide if a market is viable.
Simply put, viable means… is there potential for me to make money or will I be in serious danger of losing the shirt off my back?
Whatever process you use now, consider incorporating these steps as well.
1. Online Keyword Searches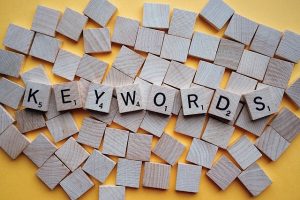 This is market research at its most basic.
If people are searching online using keywords related to your niche market, there's a better-than-average chance they're spending money on products and services in your market.
If people are searching buying-related keywords, even better.
If I type "Harry Potter and the Sorcerer's Stone" into a search engine, there's a pretty good chance I'm looking to buy the book or the movie.
That's a buying-related keyword.
There are no guarantees, mind you. But it's a good start.
So the primary question you're looking to answer here is… how many monthly searches are being performed on keywords related to your niche market?
There's no hard-and-fast rule for how many searches there must be for a market to be profitable. It's simply a tool for comparing one market to another.
For instance, if I type "pet scorpion for sale" into the Google keyword research tool and get (at the time of this writing) 100-1,000 searches per month…
… And then I type "pet parrot for sale" and get 1,000-10,000 searches per month…
… Well, it's pretty clear which is likely to be more profitable.
Sorry scorpion lovers.
There are numerous keyword research tools available online, both free and paid. Just search "keyword research tool" in your favorite search engine.
Of course, the most well-known is Google's own free keyword research tool.
2. Social Media Discussions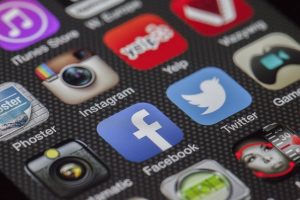 What conversations are taking place in your niche market?
Search online forums, Facebook Groups, LinkedIn Groups, Twitter streams, and other social media outlets where these discussions may be taking place.
Search hashtags in Twitter and Facebook.
What are people talking about that seems to keep coming up again and again?
What topics are getting the most engagement on a consistent basis?
If people are talking about it, there's likely a marketplace for it.
3. Blog Posts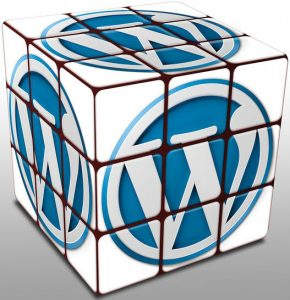 What are the popular blogs in your niche market?
What topics on those blogs are getting the most comments, shares, likes and overall engagement?
Often times, a single blog post can be the basis for an entire training course. At the very least, it can be the topic of a module in that course… or even a lead generation magnet (LGM) leading to it.
Blogs are an incredibly rich source of market research.
4. Amazon Books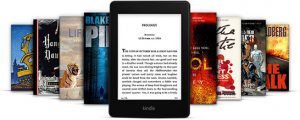 What books are popular in your niche market?
Search Amazon books using keywords related to your market.
Check the bestseller lists, you might get lucky.
Use the "Look Inside" feature to peruse the chapter headings, and to read the Forewords and Introductions.
These are gold mines of information on the most popular topics.
Read the comments to see what people are saying. It can give you tremendous insight into the needs, desires, and psychology of your market.
5. YouTube Videos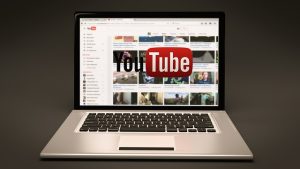 YouTube videos can be another rich source of information.
What videos are popular in your niche market? What topics and subjects have the most views, likes, and comments?
As with Amazon, read the comments for insights into the needs and desires of your market. Are there a lot of people talking about your niche?
Does it seem like people are really excited or passionate about it?
If so, that's a great indication there's a paying market for products and services.
6. Podcasts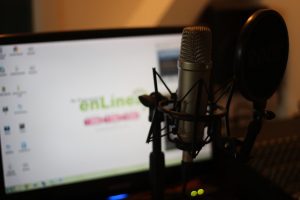 The podcast market is enormous, and growing by the day.
According to Edison Research, 67 million Americans listen to podcasts monthly. 42 million Americans listen to podcasts every single week.
Translation?
If it's a profitable market, you'll likely find podcasts related to it.
Remember my example earlier on "pet parrots for sale"? WingsNThings is just one of many podcasts available for free download on the iTunes Store right now.
So what are the most popular podcasts in your niche market?
What topics and subjects are the most popular?
7. Training Marketplaces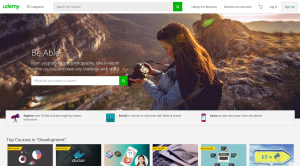 All sorts of online learning marketplaces have surfaced in recent years.
Udemy.com is arguably the most popular with over 55,000 courses and 15 million students.
Skillshare.com is a close second with over 15,000 free and premium courses.
Lynda.com has more than 6,000 courses.
All three are a great place to gauge the potential market for your product or service, and get a feel for what kind of training courses and programs are already out there.
The bestseller lists can give you a feel for popular topics, and student enrollment numbers can give you a feel for the size of the market.
Taken altogether, these 7 quick and easy research methods will give you a wealth of data and information to help you assess any potential target market.
And that brings us full circle…
The Niche Market Not Taken, or the Well-Worn Path?
In Robert Frost's famous poem, The Road Not Taken, he writes…
"Two roads diverged in a wood, and I – I took the one less traveled by, and that has made all the difference."
Taking the road less traveled is a great metaphor for living a richer life.
But when it comes to creating a profitable online business? Forget it.
You want the well-worn path.
Many newbie entrepreneurs have the misconception that in order to be successful, they've got to drill down to a microniche… where there's nobody selling a product or service like theirs.
They do a search and think, "wow nobody else has done this… I'll be the first!"
In all but the most rare cases, that will lead you down a disastrous path.
It's highly unlikely you're going to find a profitable market in this day and age that hasn't already been tapped by someone.
So follow the breadcrumbs of those pioneers who've come before you.
Don't try to reinvent the wheel.
Research your potential niche market thoroughly… choose wisely… and greatly increase your chances of success.
So what's your experience entering new markets?
Have you used any of these research methods? What methods have you used before with great success?
Please comment below and leave your thoughts.
I want to know!