Let's face it. People just don't need what you're selling.
Who really needs another personal communication device?
… Satellite radio?
… Bluetooth?
… Bottled water from the mountains of Fiji?
… A fourth car?
Or yet another e-book on how to "manifest" the perfect life?
Don't need 'em.
They've already got it ALL – out the wazoo!
So how do YOU keep THEM buying?
Tell them stories. That's how …
Tell your customers stories about who they are and who they're becoming. Tell them stories that make them feel good and proud and strong and worthy.
Give them a lead role in an epic drama where they can live out their most cherished fantasies. To be the hero who gets the girl… to be a caring, thoughtful steward of Mother Earth… a loving parent who puts her kids first … or whatever the case may be.
If the role fits, they will want to play it with passion, grace, and flare. And to revel in the applause of all who see them.
That is their silent plea.
So the next time you're worrying about features and function and even benefits, remember this: it's not what your products do that makes people buy them. It's the story those products help people to tell. And the fantasies they help them to live.
Story Selling Secret #1 — The Margin Doubler
Why does one New Yorker drive a Ford Flex and another a Range Rover?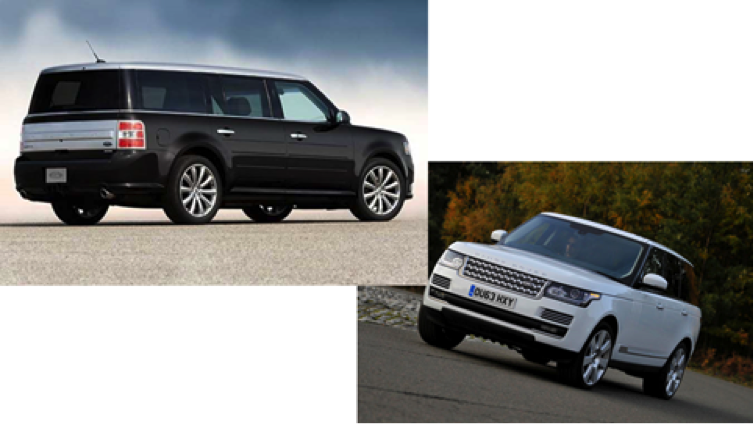 Both automobiles have four reasonably round wheels that roll along in more or less the same fashion. Both drivers perambulate the same Manhattan streets. Neither sled will see field nor stream nor gully. They may even share some of the same parts.
The primary distinction is the stories they tell about the drivers who drive them.
The difference in material and labor costs to build these two different vehicles might be five to ten thousand dollars. But if you buy into the Range Rover story – and you can afford to – you'll gladly pay $50,000 to $60,000 more for the privilege.
Such is the value of story. And language is only a small part of it …
Sights, sounds, music, color, tastes, and scents all come together to tell the story.
On the Land Rover website, there is a shot of the front of a black Range Rover.
Leaving the vehicle is a young woman in a black skirt and high heels with long dark hair.
Her destination is a mysterious looking black and silvery-grey corporate-looking building. What happens inside of the building? Why is she there? What kind of a million dollar deal is she putting together?
Another image shows a silver Range Rover sitting in front of what looks like an 18th century Austrian castle turned 5-star hotel.
Coach lights illuminate the ornate stonework and wrought iron railings lining the sidewalk. Large arched windows with magnificent keystones frame the majestic entranceway. An impeccably dressed couple approaches the eight foot high solid-oak double doors of the establishment.
Where are you vacationing this year? What delights of the senses await you?
Range Rover is not selling the SUV in these images. They are telling a story. And in telling that story, they are selling the feelings the heroes and heroines of the drama experience.
When you walk into a dealership the fantasy continues. They make you feel like Lawrence of Arabia making ready for a year-long expedition to the valley of Wadi Rum.
Countless visual, auditory, and kinesthetic cues convince your subconscious mind you are about to embark on a wilderness adventure – while at the same time being cradled in the lap of luxury. It's all part of the Range Rover story, with you as the starring character.
Interestingly, a visit to the Ford Flex website reveals something entirely different.
There are plenty of images of the Flex barreling down the road. There are elevated views showing off the front and rear sunroofs. You can see the car zooming straight toward you with such blinding speed everything else in the scene hazes out. There are low level shots of the car zipping along city streets, buildings blurring into the background
There are dozens of shots of the car – but no people. Have you ever heard of a story with no people?
Ford is obviously trying really hard to sell "the car". The car is the star of the show. But who really needs a car these days? Most people already have a perfectly good one, or two, or three.
Story Selling Secret #2 — Mirroring Effect
I read a pretty interesting book the other day. It's called The Buying Brain – Secrets for Selling to the Subconscious Mind, by Dr. A.K. Pradeep.
Instead of conducting focus groups, Dr. Pradeep places EEG (Electroencephalography) sensors on people's scalps. He then feeds them promotional stimuli, and measures the resulting changes in electrical activity in different parts of their brains.
Next, he interprets these changes as measurements of attention, emotional engagement, and memory retention. Then, he advises his clients on the overall effectiveness of their marketing messages.
Personally, I find this fascinating …
In one of the anecdotes in Dr. Pradeep's book, he tells the story of how he helped one of his clients – an automaker – to improve the effectiveness of some video they were using in the retail environment.
As he tells it:
"The carmaker had some beautiful footage of their particular hot model in full performance mode. The video was great to look at, and showed the vehicle off to real advantage as it traveled through scenic settings. Even if you were actually in the market for something as mundane as a minivan, the idea was that this presentation would capture your attention in the showroom and lend some sizzle to the sales process.
"Except the video wasn't holding showroom visitors' attention long enough to have the desired effect. The production values were certainly there, but the halo effect wasn't kicking in as expected in terms of retaining shoppers in the sales arena. Conventional research hadn't turned up any reason for this – focus group participants had praised the content, which showed the car zooming here and there in alluring ways, so what was lacking?
"Knowing what we know about Mirror Neuron phenomenon, we decided to test a revised version of the video to determine if our theory about the solution was correct. We had the footage re-cut to incorporate scenes showing the driver actually piloting the car – swinging the steering wheel, rowing through the gears, opening the moonroof, operating the windows and sound system, and similar hands-on activities that demonstrated an actual human being fully enjoying the driving experience.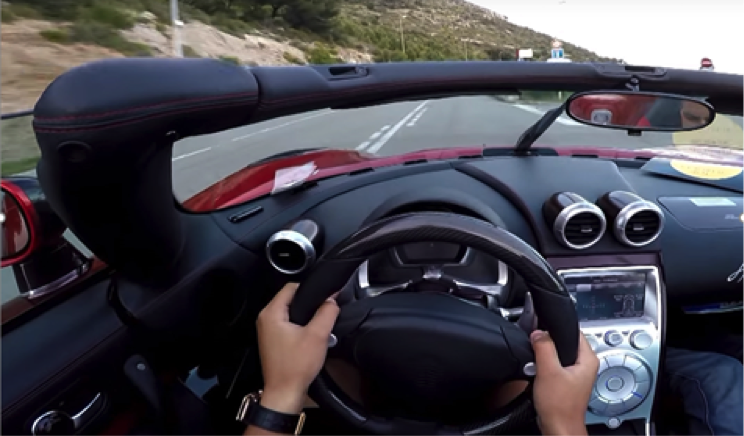 "The results not only confirmed our hypothesis – they sent the numbers off the charts in terms of Attention, Emotional Engagement, Memory Retention, Purchase Intent, Novelty, and Awareness. And in the showroom, average viewing time went from 87 seconds, to 143 seconds."
Human beings are highly empathetic creatures…
We naturally project ourselves into stories. We want to know how the hero in the cockpit of the car deals with a hairpin curve. We want to see how others admire his skill as he careens around corners at breakneck speeds… because that hero is US!
Story Selling Secret #3 — Action, Not Abstraction
This is a Royal Home.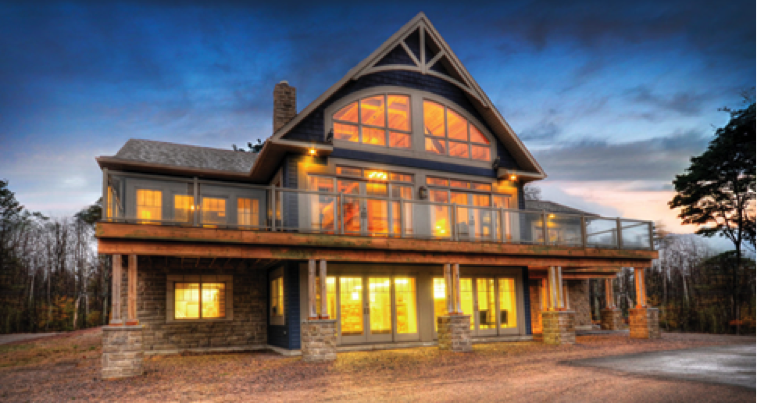 Again, no people!
What are they thinking?
Shall I sell it to you?
With words…
It's custom built in a factory and then delivered to your lot on a truck.
No moisture gets trapped in the wood as your house is being built.
No weather delays or scheduling headaches.
Your precision-built home is guaranteed to be move-in ready when you are.
So what have I done here?
I've told you what it is and what it'll do for you. But there is no action or picture and progression through time. No human interest. No implications inferred. It's entirely abstract.
…Remember, people don't really buy things for what they do. They use these facts to support the decisions they've already made.
People buy things that make them feel good about who they are. Ownership defines them.
Trouble is, when it comes to selling with words, you can't be too overt about that.
You can't say, "Only smart, savvy, sophisticated people live in Royal Homes." It just doesn't work.
But we can inject these ideas subliminally into the copy by painting the prospect into a story and putting them in action.
Even if you don't have a real story… you can future pace.
Imagine you're out for a drive in the country and you come across the perfect building lot in the perfect location…
Private… far enough from the madding crowd… but close enough to the best schools and shopping.
A couple of weeks later you put down a hefty deposit and approve the plans for a brand new custom home to be built on that lot.
The permits go smoothly, the footings get poured, and the carpenters begin framing.
But then it rains for nearly two weeks straight.
…And when the windows arrive they don't fit.
…And then a gust of wind blows a worker clean off the roof.
Cops, ambulance, insurance adjuster. The works! Ughhh…
Worse?
Your new home won't be ready to move in until AFTER the closing date on your old one.
Which means you'll be spending at least 6 weeks sleeping on your mother in law's couch!
And by the time you finally do move in (what a relief!) your budget's blown by $30,000.
Then a couple months later …
"What's this?"
You begin to notice fog on the windows, weird drafts, and jammed windowpanes.
The drywall begins to crack and bulge in places and your son or daughter's allergies are acting up.
And then it's official…
Your beautiful new dream home has just become — YOUR WORST NIGHTMARE!
Thankfully, it's just a dream… and you wake up to the precision-built prestige of a Royal Home, delivered ON TIME… ON BUDGET… and ON SPEC.
Now go ahead…
Answer the doorbell.
Open the oversized double oak doors and watch jaws drop as your friends and family behold the vaulted ceilings… the panoramic glass… the gleaming marble countertops… the massive stone fireplaces.
Gloat as cousin Bob marvels at the tight-fitting joints and perfect angles that whisper "craftsmanship" at every turn.
Breathe the impeccably pure air without a hint of mold or moisture hiding inside the walls.
And then raise a toast, because…
Finally…
…You've arrived!
Dry facts have come to life.
And you haven't told tell them what kind of a person they are when they buy.
You've shown them.
Bottom Line:
In today's world, there's already too much stuff.
People don't need any more stuff.
What they want – and will pay almost any amount for – is a never ending cavalcade of enchanting stories that tell the world who they are, and who they want to become.
Do you agree?
Sound off in the comments box below.