I talked before about the power of knowing your Customer Avatar.
More specifically, it was all about the science of "digging deep" into the psyche of your ideal customer to extract the golden nuggets of data you need to better understand the demographics and psychographics of the people who buy your product or service…
… So you can find more of them –  thereby, increasing your sales and profits.
The way to do that, of course, is through specialized online analytics software that extracts the data and presents it to you in the most useable way possible.
Well, analytics software is just one important tool required to run your online business.
This week I want to tackle yet another technical piece of your operations by taking a look at the online software you can use to actually deliver your product once you've sold it.
Few online marketers pay attention to what happens after the sale… and that's why so few get repeat sales, which is the true lifeblood of any profitable business.
One sale does not a business make.
So I'm going to give you a quick introduction to some of the tools and software available to deliver your online courses and training programs, as well as your free Lead Generation Magnets (LGM).
Here are the 5 primary delivery options we're going to review:
Online video hosts

– like Wistia and Vimeo…

Social media groups

, where you decide to really keep it simple and set up your course within a Facebook or Google Group…

A WordPress blog

with password-protected pages…

Third-party page builders

– like OptimizePress, Leadpages, and Clickfunnels…

Learning Management Systems

, with full-featured teaching platforms…
Ok, so let's talk about these a bit deeper…
#1: Online Video Host
If you're creating a free course for lead generation purposes – or what we call a Lead Generation Magnet (LGM) – a simple solution is a video host like Wistia or Vimeo.
Video hosting accounts start at as little as $9 per month, and typically charge based on how many videos you upload and how much bandwidth you use.
This makes them a great, low-cost way to get started.
For example, I can create what Wistia calls a project… which is simply a list of videos grouped together for a common purpose, such as an online course.
Then people can click through and access your videos, one by one from the list.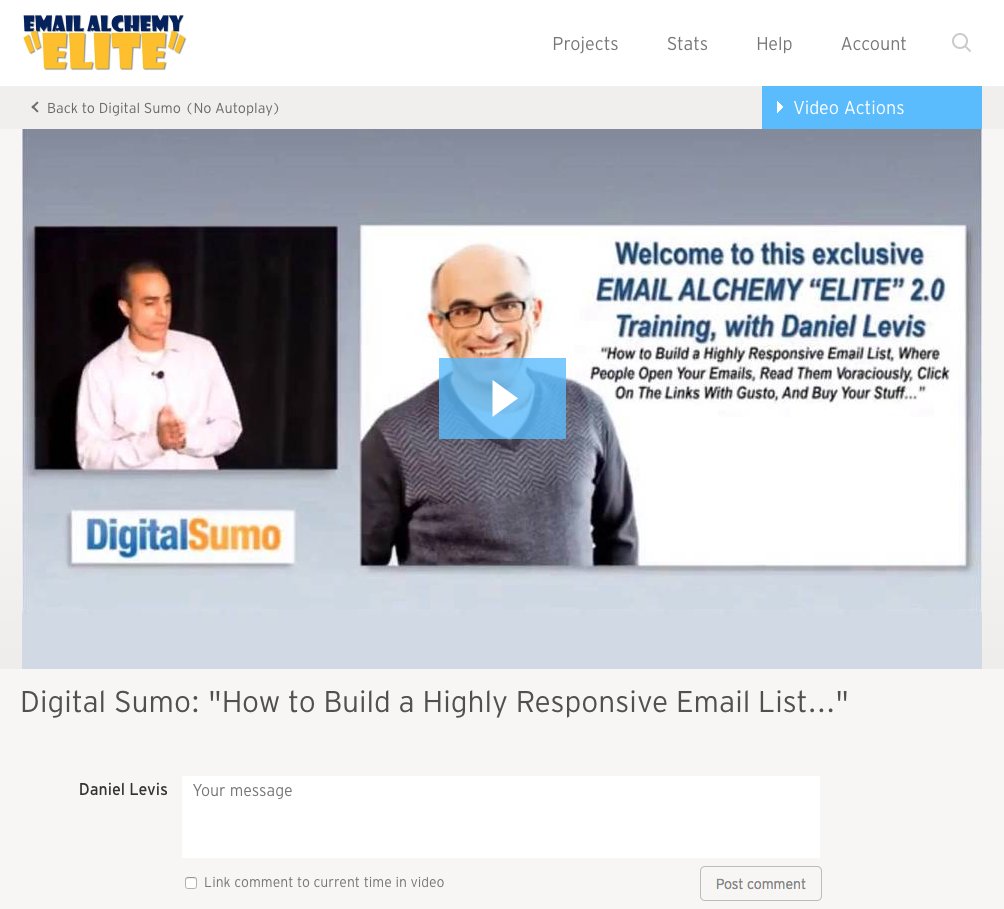 Plus, you can place a section underneath each video where your visitors can leave a comment and interact with you.
So a video host like Wistia allows you to create what is essentially a bare-bones "on demand" or "just in time" course, where people can access your videos at their own pace.
The challenge with this sort of setup is, it's not branded super well.
You can place your logo at the top, but it's not a very appealing looking platform. So if you're trying to build credibility with an LGM, this may not accomplish that purpose.
However, it's a simple alternative that will allow you to quickly get your videos online.
#2: Social Media Channel
A Facebook Group is a good way to get up and running with an online course very quickly, and allows for extensive interactive capabilities.
They're great for live courses, as well as "on demand" courses.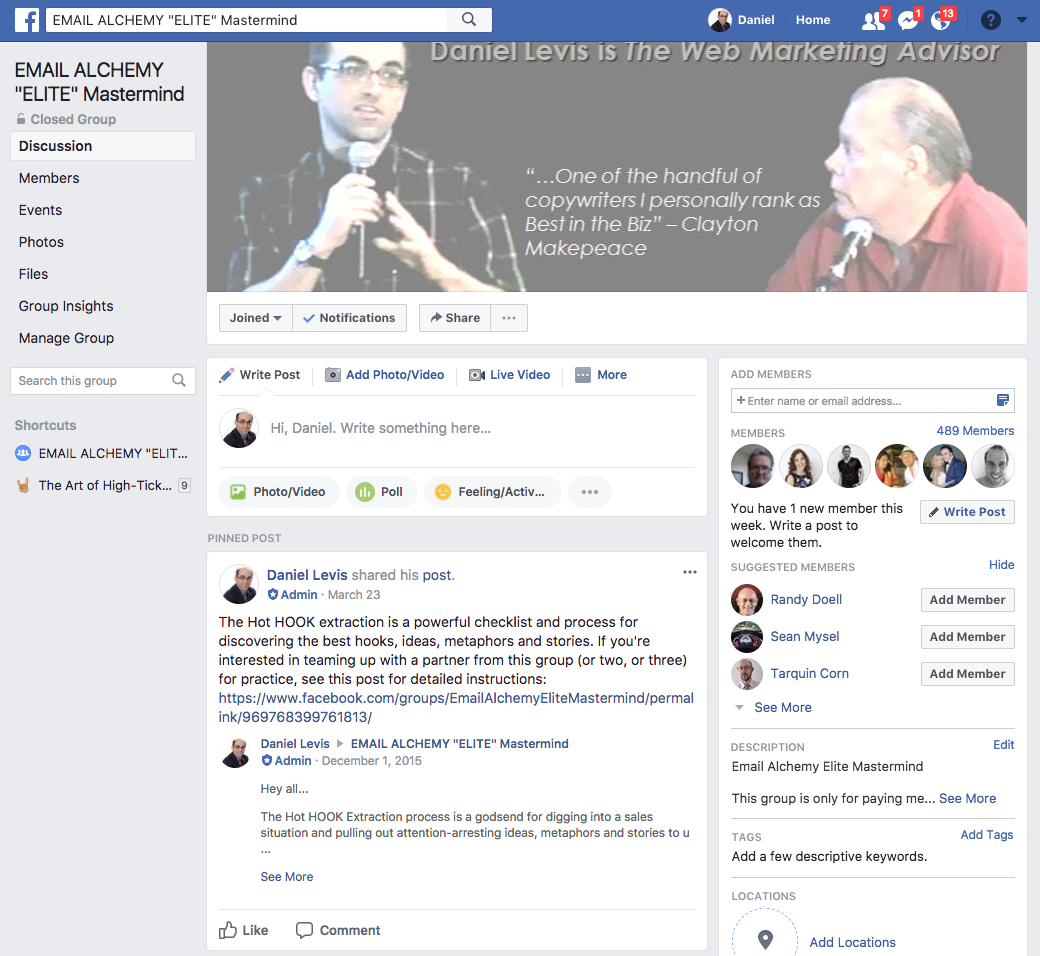 If you're running a live course, you can set up events and schedule them, so notifications are being sent out to those in the community.
You can attach files for various modules – like worksheets, handouts, slide decks, or PDF resources you want to share. And if you don't want to upload a file, you can create and add a doc right within Facebook.
You can create an entire library of files, and people can search and download them.
And of course, you've got the discussion board and interactive capabilities, which is the real power of the Facebook platform.
You can post your videos and individual modules, you can post discussion questions, and quickly create interaction with those in your community.
Especially, if they're active Facebook users that hang out on the platform a lot.
You probably won't want to use this as your sole membership area, but it works well as an extension of your primary learning platform. Although, I certainly know people who also run their free courses and other LGMs right through Facebook.
Just be sure to keep a backup of any content you put on the platform. Facebook isn't likely to disappear tomorrow, but anything can happen.
#3 Password-Protected WordPress Site
You can lock down content on a WordPress blog or website in a number of ways.
They run the gamut from simply having a series of WordPress pages locked behind a password, to using a paid membership plugin.
One of the most well-known paid plugins is WishList Member, which is now being used to run well over 84,000 membership sites and online communities.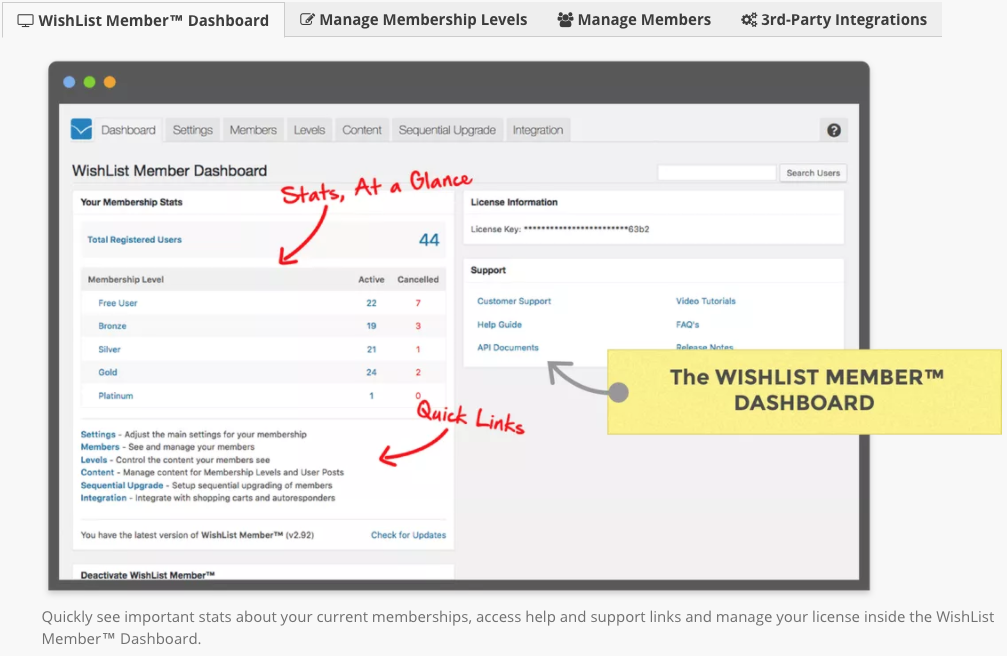 WishList Member is an amazingly useful tool for creating any size and type of member area you can imagine. It works with virtually any WordPress theme, so you can quickly install and integrate it with any site for a truly custom look and feel.
One caveat with a membership plugin, of course, is it requires that you have (or can hire someone who has) a certain level of technical know-how and ability.
You certainly don't need to have extensive programming knowledge, as the majority of the technical aspects are handled by the software. However, you do need at least some level of technical understanding to use it.
So if you're just getting started, this may not be the best option for you.
Still, if you can swing it, a membership plugin like WishList Member has all the features you need to run your online business… including protected members-only content, integrated shopping cart and online payments, email capabilities, member management, and more.
Best of all, it's all integrated right on your own domain.
So once you've got it all set up and running, you'll have your own custom platform that will allow you to build and scale your business without limitation.
#4: Third-Party Page Builder
Third-party page builders include Leadpages, Clickfunnels, and OptimizePress.
They're incredibly popular with online marketers for hosting sales pages, squeeze pages, pre launch content, and other LGM content. However, many of them are also great for building full-fledged online courses and training programs.
One of the most popular of these is Leadpages.
If you've ever been part of a product launch, you've almost certainly seen a series of pre launch videos that are hosted on Leadpages. A series of 3 training videos released in succession over a period of days, followed by a 4th sales video that sells a product or service.
So your visitors can access your videos, watch them in series, and then buy your product.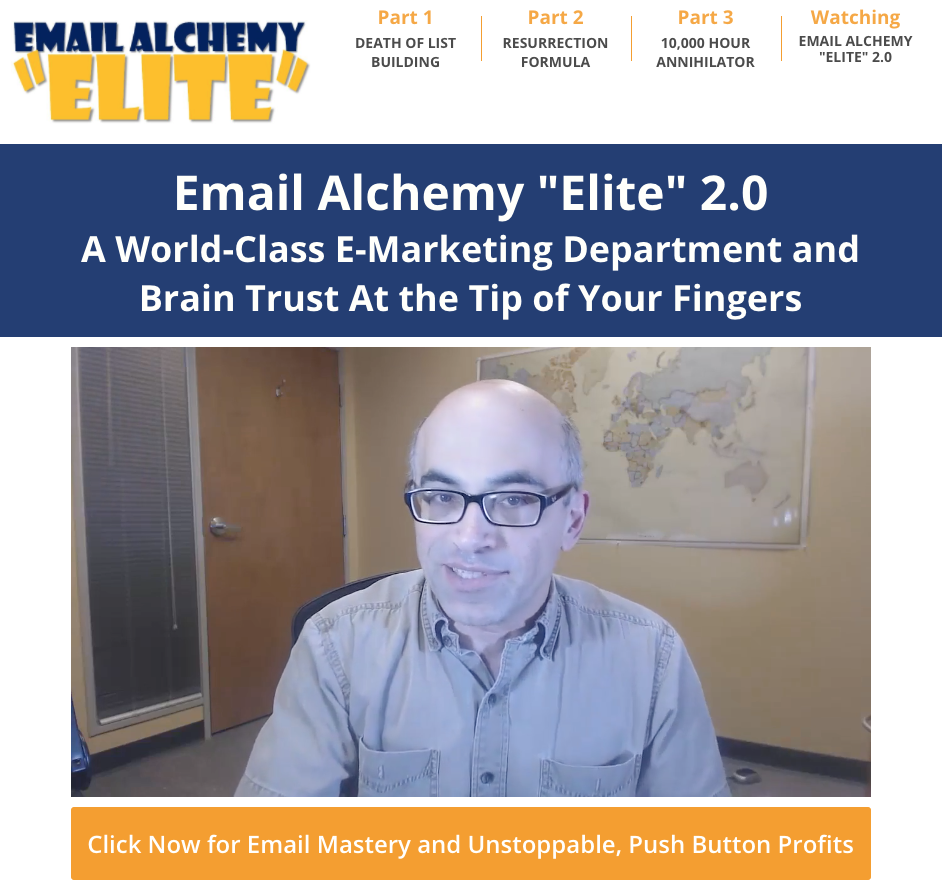 You can do the same thing for an online course, and host it entirely on Leadpages.
Alternatively, if you have a WordPress blog or your own web site, you can create your pages with Leadpages and then host them on your own domain. In this way, you can set them up to look and feel like a part of your web site.
Clickfunnels works in a similar way. It's more expensive, but does more.
In addition to creating landing pages, squeeze pages, and such… it also gives you a ton of other features for presenting your content and running your online business.
This includes the ability to create entire membership sites… build order forms and sell products… automated webinars… and an affiliate center, so you can allow other people to sell your products and earn commissions… plus, quite a bit more.
Finally, another great third-party option is OptimizePress. It's a WordPress theme and plugin that integrates seamlessly with your WordPress site.
It works in much the same way as Wishlist Member, except it's the page creation and membership software all rolled into one. So it gives you the ability to create a truly custom member area and product delivery system, from the ground up.
One of the chief benefits of OptimizePress is that it's a one-time purchase. Whereas, you'll pay an ongoing monthly or annual fee for an online page builder like Leadpages or Clickfunnels.
The downside is you've got to have (or hire) the technical and creative talent to use it.
#5: Learning Management System (LMS)
Learning Management Systems can be quite complex.
These include plugins like LearnDash and WP Courseware (that run on your own WordPress site)… as well as third-party software platforms like Udemy or Teachable (that run directly off the provider's web site, rather than your own).
They're great for creating an entire online training portal, with multiple courses and programs, and are used by everyone from "one man bands" to large corporations.
For example, LearnDash is a complete LMS that tracks every aspect of your members learning activities – including their tests, quizzes, assignments, and overall grades.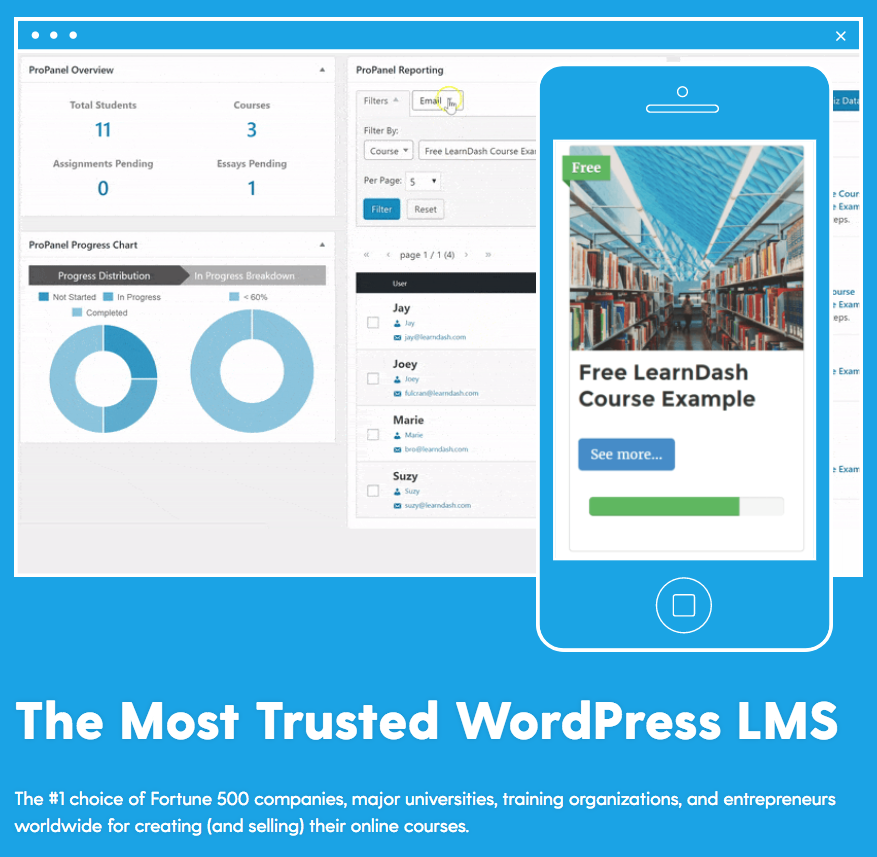 It's a sophisticated educational platform, with a quiz management system… a place to load, create and track assignments… tools for drip-feeding your lessons out over a set period of time… plus, many more features for running one or dozens of online courses and programs.
Perhaps most importantly, it's a plugin that works seamlessly with your WordPress site, so you can build and manage it all relatively easily right from your WordPress dashboard.
It's a very cost-effective way to set up a really good learning management system.
Another popular LMS is WP Courseware.
It has similar features, allowing you to create as many courses as you want – each with their own modules, lessons, quizzes, surveys, and an unlimited number of members.
You can integrate multimedia into all your courses… send out email notifications when people have completed certain modules… and even send out a customized course certification once someone has completed a course.
All of these features make learning management systems incredibly popular with corporations, but they're also great for entrepreneurs who want to sell and deliver courses online.
If you don't have a web site, or would rather have someone else host your content, there are also tools like Teachable.
You can serve multimedia trainings and it has integrated e-commerce functions so you can charge for your courses… integrate discussion boards, quiz tools, and more.
Plus, it has all the marketing tools built-in, so you can create sales pages, squeeze pages, promotions and coupons.
Finally, even though it's all hosted on their platform, it all redirects to your private domain. So it gives your visitor the experience that it's all branded under you.
The power of Learning Management Systems is they're amazingly cost-effective, and you have all the tools you need to build truly great online courses, all in one place.
They have all the features of a full-fledged classroom.
So What's the Best Choice for Delivering Your Online Content? Begin with the End in Mind…
My intention here was not to overwhelm you with choices, but to simply give you a quick overview of what's possible, so you can make the right decision for you.
Ultimately, you've got to keep your future goals and objectives in mind.
You want to choose a platform that fits your current needs, skill level, and available resources (which includes time and money)… but you've also got to keep the future in mind, which means a platform that's scaleable and can meet your objectives well into the future.
So what software or platform are you currently using to deliver your content?
Do you have any success stories (or horror stories) to tell us about?
Has this short overview helped you in any way?
Let us know in the comment box below!