It doesn't matter what you're selling… cars, coaching, memberships, life insurance, or consulting.
If you do this right (and you've got a good message-to-market match), what you're selling will fly off the shelves or fill your dance card with clients and members.
The best example phentermine… and the most transparent… is what you see in weight loss.
Those images of the before-and-after miracles, even if you stumbled on the ads by mistake, are impossible to ignore.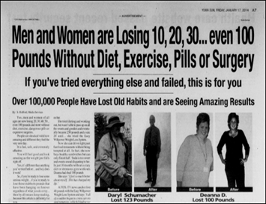 For instance, even an old grainy one like this makes us carefully inspect the pictures to see just how dramatic the changes are.
EVERYONE has to check it out… whether you're interested in weight loss or not… as your eyes go back and forth to assess the differences.
And that, in a nutshell, is what we're all doing all the time in our marketing.
We're painting before-and-after pictures, if not actual images or photos, creating them in the minds of our prospects.
The better you are at this one skill, the more you'll create…
Killer CONTRAST for Powerful Persuasion
Since CONTRAST is so important, let's check out a few diverse examples.
But first, here's the convoluted definition:
A CONTRAST EFFECT is the enhancement or diminishment, relative to normal, of perception, cognition, or a related performance as a result of successive (immediately previous) or simultaneous exposure to a stimulus of lesser or greater value in the same dimension.
Pretty verbose. In plain English, this just means (visually, for example) that what we're seeing now is affected by what we've JUST seen.
Another way to say it is the contrast effect is something that occurs because of a comparison.
So an example?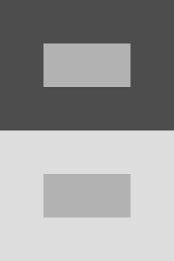 In the image here, the two inner rectangles are exactly the same shade of grey, but the upper one appears to be a lighter grey than the lower one due to the background provided by the outer rectangles.
Crazy, huh?
Another of my favorite examples of this phenomenon is from Dan Ariely's book, "Predictably Irrational."
In it, he talks about the Williams-Sonoma breadmaker that the company introduced for $250.
But it wasn't selling.
So a market research firm recommended a bigger, more expensive breadmaker with a 50% higher price tag, to be sold along with it.
What happened?
Sales went through the roof.
The contrast effect made the original machine seem so much cheaper.
What's even weirder is that we can be completely aware of the tactics being used, yet we still experience the effects… like the grey images above.
In our online world we see this technique used on almost every sales letter, VSL, or website when we start getting close to the offer.
First we see how much the product or service "should" cost…
"This widget has been selling on our website for the last 2 years at $10,000."
That's the decoy, which can be elaborated on in a dozen ways… number of people who've bought it, all the hours spent in research, and all the expensive work that went into creating it.
There are many ways to justify the reason for the cost.
And you know the drill… then we introduce a drastically reduced price of only $197!
Of course, if the reasons aren't credible or the difference is too extreme, the technique will blow up in your face.
But when applied strategically, it's amazing how powerful this overused-but-still-effective tactic can be… EVEN IF YOU UNDERSTAND WHAT'S HAPPENING.
Let's look at a few more exhibits …
How to Kick Sand in the Bully's Face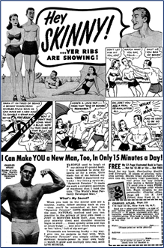 I can remember seeing these ads when I was a skinny kid, and boy did they make me want to bulk up.
The contrast is powerful—from a skinny kid who everyone makes fun of, to a Charles Atlas lookalike—in only 15 minutes a day!
The ads featured Charles Atlas (born Angelo Siciliano) who began running these ads in the 1930s and they continued running for the next 50+ years in boy's comic books and magazines.
But before you laugh, some of the famous athletes who took Charles Atlas' course were heavyweight boxing champions Max Baer, Rocky Marciano, and Joe Louis.
Then, with the success of this approach, new ads appeared that always highlighted the before-and-after contrast.
For instance, here are a couple more headlines in the series:
"The Insult that Made a Man out of Mac!"
"How Jack the Weakling Slaughtered the Dance-Floor Hog"
"The 97-Pound Weakling Who Because the World's Most Perfectly Developed Man"
"The Insult That Turned a 'Chump' Into a Champ"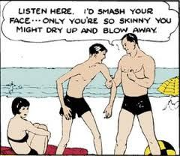 What's also instructive is the stripped-down emotional appeal, which isn't just effective with prepubescent boys.
So many times we think our ads have to be sophisticated and "hide" the raw emotion.
But surprisingly, everyone is susceptible… from the king to the peasant.
More Killer Contrast for Easy Persuasion
Here's a great contrast example from Copyblogger about shifting one little element to increase sales:
"A company selling high-end hot tubs at $15,000 a pop heard from customers that having the tub was like adding another room to the house. The company incorporated that bit into their sales messages, and contrasted the price of the tub with the cost of a room addition (which runs at least $30,000).
Sales increased by 500%."
And finally, another example that's from a fill-in-the-blank template we just created for our members (we provide over 250 done-4-you templates, landing pages, video sales scripts, coaching, etc.).
It's an email that we include in our Recruitment Series, one of 12 categories of email templates we provide for our members.
It's recruiting prospects to come to a webinar about relationships and money.
It hits the pain button pretty hard and sets up the solution which is coming up shortly.
First the pain, that sets up the contrast:
Dear [NAME],
Welcome to the club if you've ever had an argument with your partner about money.
Because it's almost universal for couples to lock horns when it comes to their finances.
Those arguments often erupt into all-out emotional WAR, where someone ends up on the couch and it takes a lot of exhausting effort to patch things up so you can function normally again.
And it doesn't take a major battle to sabotage your love life — even minor disagreements can smolder for weeks and cause low-level resentment and unspoken grudges.
Then further down in the email is the resolution, or the pleasure that removes the pain:
Look, if you want to make a lot more money, get your relationship recharged, restored, and reconnected — you won't believe the mental clarity and motivation you'll free up with this training.
And… if you want your relationship to soar, sing, and supply you with never-ending pleasure and passion, you MUST get your money issues straightened out, or you're forever doomed to struggle.
So that's the rap for today, with plenty you can apply to your own marketing campaigns.
The stronger the contrast, the easier the persuasion.
And if you'd like to end the frustration and overwhelm that most entrepreneurs struggle with…
… Check out our automated, done-4-you systems for filling your pipeline with high-quality clients and apply now for your FREE Strategy Call.
In the meantime, Good Selling!