You see it done every day, though savvy marketers use the strategy seamlessly.
See if you can spot the strategy in this old ad from Bottom Line.
It was a magalog with the headline:
The Drugs No Senior Should EVER Take
That's followed up with the following teaser copy: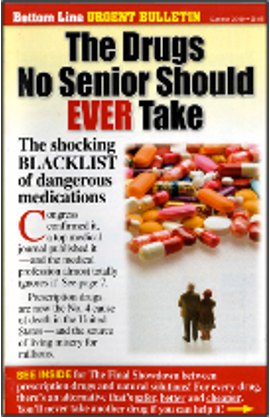 >>> The shocking BLACKLIST of dangerous medications
>>> Congress confirmed it, a top medical journal published it -and the medical profession almost totally ignores it! See page 7.
>>> Prescription drugs are now the No. 4 cause of death in the United States – and the source of living misery for millions.
So of course, they're making an enemy of the big, bad, pharmaceutical companies and their evil drugs.
It's probably the fastest way to create bonding with your target audience, making use of the old proverb…
"The enemy of my enemy is my friend!"
It's such a powerful strategy, and if you're creative, you can actually use your competition —your enemy— as a persuasive tool.
So let's dig deeper and take a look at a few examples.
Finding the Right Enemy …
To understand the strategy in more detail, here's an excerpt from the definitive storytelling training… Daniel Levis' Effortless Influence: How to Master the Art of the Sales Story:
"Selling is all about making a connection. And there's nothing that connects people like a common enemy, which is what happened in the movie, "War of the World's."
World peace and brotherly love nearly broke out overnight at the threat of aliens attacking our planet. That's exactly the kind of camaraderie you want to foster with your prospects.
Indeed, our enemies fill our lives with meaning, purpose, and motivation. As people who stand in our way … who represent what we love to hate … who are there for us to react against … they are a source of energy."
Another good thing about enemies is that they're everywhere.
The most obvious examples are the Fat Cats on Wall Street, Big Pharma, evil politicians, and big corporations.
But your enemy can be almost anything … a person … an organization … a social structure … the environment… or even an unwanted aspect of your own personality that you're fighting against or trying to overcome.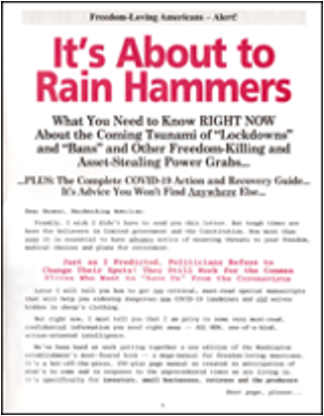 Here's an example that's currently mailing to the lapsed subscribers of, "The Bob Livingston Newsletter."
As you might guess, the newsletter demographic is primarily men over 50 and usually of the conservative-libertarian type.
Just this deck copy is enough to get their blood boiling and persuade them to reup:
"What You Need to Know RIGHT NOW About the Coming Tsunami of "Lockdowns"and "Bans" and Other Freedom-Killing and Asset-Stealing Power Grabs …… PLUS: The Complete COVID-19 Action and Recovery Guide …It's Advice You Won't Find Anywhere Else…"
Then, inside the magalog is an additional bonus with this inflammatory title:
UNMASKING America: The Truth About COVID-19, Globalism,
America's Political Civil War, and How to Keep Politicians
and Bankers from Stealing Your Wealth and Destroying Your Health.
You can see how pissed off these folks would be about being duped and ripped off.
Diving Into the Subconscious of Your Target Audience …
One of the big secrets to motivating people is to involve them in a cause against a hated enemy. In primordial times, our forefathers banded together against hostile forces or died.
Today, we're still hard-wired with these aggressive "us against them" impulses but are trained to repress them. This just makes their pent-up energy all the more potent.
Then, when someone gives us an outlet for these bottled up drives and encourages us to express them, we find it refreshing and will usually take the bait.
What's more, we will endear ourselves to that person and to the group they represent.
So realize that there is ALWAYS an enemy in every story.
No enemy, no story, it's as simple as that.
Now here are a couple more examples, this time from the email templates our SOCG members have access to — there are currently 294 templates in their arsenal, covering LGMs, emails, landing pages, video scripts and more, with a new one created each week specifically for one of our member businesses.
This is #56 from our Recruitment Email Series where we're turning all other biz op pitches into "the enemy:"
Subject Line: Scared Money Never Wins
Dear [NAME],
You know what will kill your confidence and your business?
Scared money.
So if you have any doubts about what you're selling, or don't trust the people you're working with…
… Listen up!
Because the truth is, you should be suspicious about online opportunities.
And if there's one thing that will destroy your business, it's scammers pulling the wool over your eyes.
That's why (and for good reason) most entrepreneurs harbor a secret and justifiable fear of being ripped off.
OK, here's another from an SOCG estate planning member. This time just a few lines that single out the enemies who are trying to steal our money:
So don't let your longed-for golden years become a tragic decline into oblivion.
And don't think a huge nest egg isn't vulnerable.
Because without carefully, aggressively, and strategically protecting your assets with the most current legal safeguards…
… You're a sitting duck for the greedy government, expensive lawyers, and unscrupulous family members.
Worse… and something we see all the time, are the unexpected family squabbles that can become irreconcilable, with hate, bitterness, and ill will that lasts for decades.
Finally, here's another example from our collection of members' templates.
This time the enemy is the ordinary use of vitamins and minerals, which, of course, are not nearly as valuable or effective as what our SOCG member is selling:
People are justifiably angry and confused about vitamins and minerals.
And it's no wonder.
One person takes a single capsule of Vitamin C and notices a miracle of renewed energy, alertness, and their joint pain vanishes.
The next person takes the same capsule, and despite their great expectations… nothing happens.
So they take 2 capsules… then 5… then 10, hoping for that same miracle, but all they get is a stomach ache.
Or… when nothing happens, people resort to the scattergun approach.
In other words, they up the ante and take a handful of everything they see at the health food store… from A to Zinc… and hope something will eliminate their aches and pains.
That's been standard operating procedure for treating health issues with vitamins and minerals… just guesswork, wasted money, and blind hope that something will help.
And as a health professional, I can tell you it's ridiculous… horrifically expensive… wasteful… and even dangerous.
Because vitamins and minerals are NOT just innocent little sugar pills.
They're potent chemicals that can transform your body's chemistry.
OK, that gives you a variety of ways to incorporate more all-important enemies into your marketing.
You can see how this powerful sales trigger is being implemented with our new A.I. LGM that's making client attraction faster, easier, and more efficient, while bringing you ONLY quality clients who are a good fit for your programs and services.
In the meantime, Happy Selling!