On a dark and stormy night, a lonely entrepreneur was slaving over his keyboard.
Exhaustion played tricks on his overwhelmed brain as the rain lashed the windows and a branch scraped… like fingernails on a chalkboard… against the roof.
That's when he heard a door creak, a chain dragging… and… were those shuffling footsteps approaching?
OK, I admit I'm not Stephen King, but here's the point.
Both you and I know… as does Stephen King… that storytelling can fill your appointment book, sell oodles of products and services, and keep your clients spellbound and waiting for the next marketing communication from you.
So with Halloween upon us, let's dig a little deeper into using stories… even scary ones… to crank up interest, engagement, and profits.
The Storied History of Scary Marketing Stories
Halloween is a great example for using stories in our marketing to engage, connect, and in an under-the-radar way, pull people in.
And it's got a great history to draw on.
So when you adhere to Robert Collier's admonition, "Always enter the conversation already occurring in the prospect's mind," your storytelling becomes even more persuasive and powerful.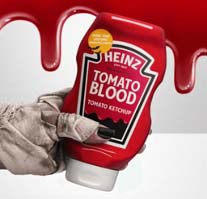 For example, on the national stage, did you know about the Heinz "Tomato Blood" campaign with limited-edition ketchup during Halloween? It's gruesomely brilliant and has a whole story line to go with the campaign.
Then there's the cat food brand, "Temptations," that released a limited-edition "Tasty Human" flavor.
Even better, Mars candy has their own take on the season with their disgusting Halloween flavors of "Zombie Skittles," which includes Boogeyman Blackberry, Mummified Melon, and even a 'rotten' Zombie flavor.
But not only are there Halloween-focused products, each of these comes with involvement devices that take the fun of the stories even further… with blogs, contests, bonus videos, etc.
Skittles even sent out a press release that said;
"It's an utterly disgusting taste experience that will elicit strong reactions from anyone and everyone daring enough to try it."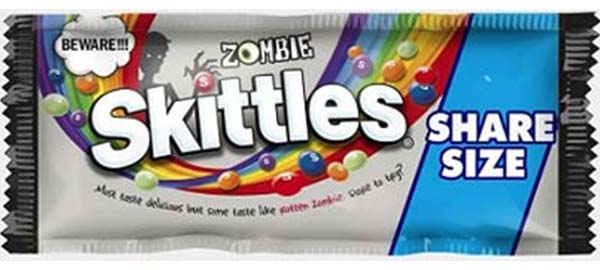 More Scary Storytelling
Back in the day, when I was creating ads and monthly newsletters for a chiropractic franchise with over 300 clinics called HealthSource, I'd come up with a theme for every issue, whether it was St. Patrick's Day, school starting again, New Year's, or Halloween.
So here's an example of using that scary theme and creating multiple stories around it.
This was the cover of the October issue with a table of contents that patients would see when they looked at their mail. It was impossible to throw away and had multiple points of interest to get them to open the newsletter: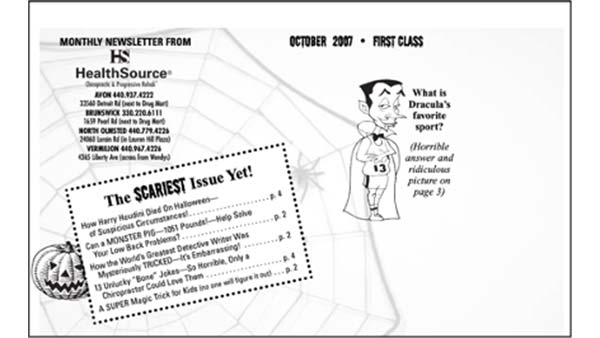 You may not be able to read the small print, so here's part of the table of contents:
The Scariest Issue Yet!
How Harry Houdini Died on Halloween—of Suspicious Circumstances… p.4
Can a MONSTER Pig—1051 Pounds—Solve Your Low Back Problems… p.2
13 Unlucky "Bone" Jokes—So Horrible Only a Chiropractor Could Love Them… p.4
Notice that it's all tied together in a Halloween theme with multiple stories that all relate to chiropractic.
If you put your mind to it, you can create a story about almost anything, and in a minute, I'll show you how to make it even easier.
Here's another example from that same issue, this one more focused on back pain with the lead story… about FrankenBack!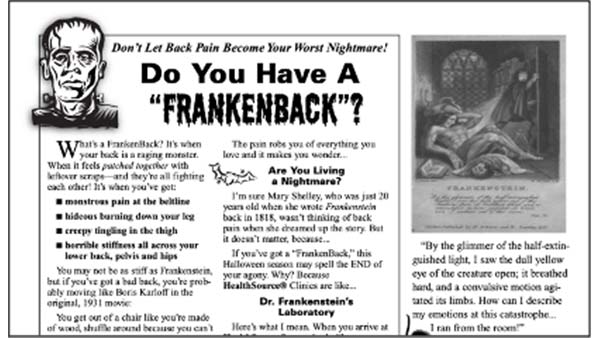 The first paragraph says:
What's a FrankenBack? It's when your back is a raging monster. When it feels patched together with leftover scraps and they're all fighting each other. It's when you've got…
monstrous pain at the beltline
hideous burning down your leg, creepy tingling in the thigh
horrible stiffness all across your lower back, pelvis, and hips
The Shortest Shortcut to Master Storytelling
Years ago, when I was already writing copy for my own chiropractic practice, I stumbled on the definitive storytelling training.
It was called:
Effortless Influence: How to Master the Art of the Sales Story
I bought it and went through the complete training, meticulously, 4 or 5 times and it transformed my storytelling completely.
In fact, it's how Daniel Levis and I connected in the first place about a decade ago when I contacted him about how much the course had opened my eyes to the nuances and subtleties of storytelling.
The good news is Daniel has decided to make a SCARY good offer by letting you grab this deep dive into advanced persuasion for a HUGE DISCOUNT.
You can check it out here, but hurry because this special Halloween offer is only available until MIDNIGHT. You'll need this promo code " EI $500 OFF " to grab the discount. Just copy the red characters between the quotes, then paste the characters into the promo code field on the order form, hit the "apply" button to the immediate right, and check out.
And if you do nothing else, at least check out the description of the modules, case studies, theory, interviews, bonuses, and the 59 different annotated exhibits.
Of course, you don't have to buy Daniel's course to get this same information.
You can just go out and buy the 60+ books he distilled to create this course, but I don't recommend working that hard when you've got the ultimate shortcut at your fingertips.
I do personally recommend Effortless Influence and I see its impact on my marketing every day — you will, too!
Until next time, Happy Selling!
P.S. I especially like the hard copy option where you can underline, highlight, and digest it all while listening, at the same time, to the audio version.