Stock in trade for the master copywriter is something called the imaginary tale …
The best, most well-known and frequently swiped example of the imaginary selling tale is probably John Caples' famous ad, They Laughed When I Sat Down at The Piano — But When I Began to Play~.
My guess is that this world-beating ad is a masterful work of creative theft, probably transposed from a book or a play or some other storytelling medium. Caples likely substituted the situations and characters to suit the item he was selling, tweaking things here and there as necessary.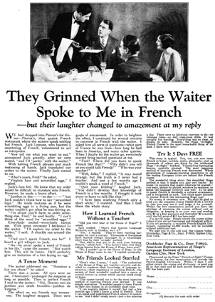 Indeed he used the same "template" again to create another famous Caples classic, "They Grinned When the Waiter Spoke to Me in French, But Their Laughter Turned to Amazement at my Reply …"
We've looked at these Caples masterpiece ads in previous Sunday Post editions.
Do you think you might be able to use creative theft to quickly and easily create compelling imaginary tales for your products, programs, and services?
I'm going to take a few minutes to fabricate a little selling tale for you right now.
I'm going to take a well known story, one you're almost surely familiar with, and I'm going to transpose the setting, action, and characters of that story into my story.
And just for fun, we're also going to have a little contest and everybody wins…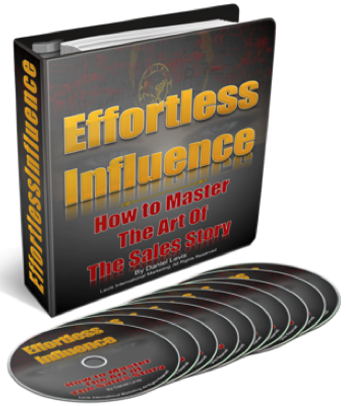 The first person to accurately identify the seed story the below imaginary tale is based on gets a pdf of the core modules of my Effortless Influence – How to Master the Sales Story course.
And everyone reading this can use promo code August 10 to chop $500 off the price of the full Effortless Influence program. Grab it now because the promo code is good through midnight August 10 only.
See if you can identify the story I'm borrowing from in the comments box below. Make sure you put your name in the comment as well, in case you're the winner.
Here we go …
They Scoffed When I Gave Him the Account, But Their Snickers Turned to Amazement When The Big Deal Closed…
When I first started out in business, many years ago, I faced a much larger, almost vindictive competitor. They had more working capital. Their sales force was more experienced and much better connected than mine. And they had tighter supplier relationships than I did.
And each week the President of that company – Bill Rainey was his name – would call me, and threaten to drop his prices and bury me alive if I didn't sell out.
Word got out about a takeover. My employees were scared to death I was going to cave and Rainey would throw them out on the street.
One day, when he called to harass me, I blew up. I'd simply had enough of his bullying. And I challenged him…
I said, "Look, both of us have been trying for years to win the municipal government account. This is the largest account in the city. Here's my challenge to you. Whoever wins that darned contract first gets to buy the other out for just ten cents on the dollar… deal?"
He figured there was no way he could lose. So he accepted my challenge.
After getting off the phone with him that day, I realized I had bet the future of my company on a wing and a prayer. I had no idea how I could win the account, certainly not on price or service level or capability. My executive team thought I was nuts! Except for one man…
He was a young engineer named Jeremy who was working hard to climb through the ranks. Jeremy was soft-spoken, inquiring, polite to a fault, but certainly not the kind of individual you'd expect to wield much influence.
The rest of my men laughed out loud when Jeremy said he'd take on the task of clinching a deal with the municipal government. But somehow his quiet confidence made me believe in him. And I gave him a chance…
As the weeks passed, Bill Rainey personally applied his substantial influence on the city elders. He was a large, forceful man of considerable presence who began steamrolling over any council member who dared stand in his way. He was determined to stop at nothing — even to buy his way in if he had to — just to put me out of business.
You could have heard a mouse nibbling on a piece of cheese as the mayor prepared to announce the decision. I can still see Rainey's cocky sneer as we filed into the council chambers that day. He was convinced he had won.
But just a few minutes later, as the mayor announced the decision, we watched Rainey turn white as a sheet.
Somehow Jeremy had pulled off the impossible. We had won the contract! And with a bid that I later discovered was three and half times HIGHER than Bill Rainey's.
He reneged on the deal to sell me his company for ten cents on the dollar the very next day. And Jeremy began systematically toppling all of his best accounts.
Within eighteen months we became the dominant player. We charged premium prices and became incredibly profitable, eventually pushing Rainey's company into bankruptcy protection. And I was able to buy his assets for less than eight cents on the dollar.
I snuffed out Bill Rainey.
Now, you're probably wondering: What strange power did Jeremy use to convince all those customers to gladly pay us those premium prices?
It was deliciously simple.
He told stories …
So do you recognize the seed story I lifted to create this?
Type it into the comment box below. Include your name, and who knows, you could win a pdf copy of the core Effortless Influence – How to Master the Art Of the Sales Story modules.
I'll shoot an email out announcing the winner as soon as we have one. And I'll show you how the situations and characters map between the two stories.