I just received these two books from my good friend, Drayton Bird.
One, the latest expanded and updated edition of his classic, "Sales Letters That Sell", now titled, "Sales Letters (and emails) That Sell".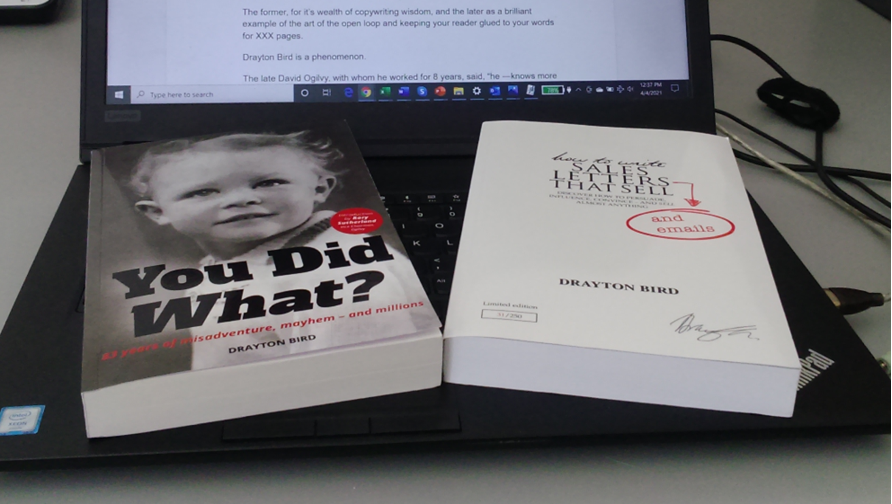 And the other, his recently released autobiography, hot-on-the-heels of his 83rd birthday, entitled, "You Did What?"
I highly recommend them both.
The former, for it's wealth of copywriting wisdom, and the later for the sex, drugs, and Wagnerian opera.
Drayton Bird is a phenomenon.
The late David Ogilvy, with whom he worked for 8 years, said, "he ―knows more about direct marketing than anyone else in the world." His books, out in 14 languages, are praised to the skies by people like Gary Bencivenga and Joe Sugarman.
Sir Martin Sorrell, chairman of WPP simply says: ―The world is full of people lucky enough to have learned from him.
From Bangkok to London to New York you will find multi- millionaire entrepreneurs and top advertising people he hired and trained or who followed his precepts. He's worked for almost every famous brand you can think of – IBM, Microsoft, P & G, Visa, Ford, Toyota and so many more.
What's more he's done just about everything you can imagine from selling swimming pool franchises in France to training executives for American Express. His speeches – "instructive and hilariously funny", said Ogilvy – have drawn applause in 43 countries.
Yet after 60+ years writing for a living, he still sits down every day and taps out copy that pulls in millions in revenue. As one client commented after he turned round yet another money-maker in 48 hours, ― "Thank God for Drayton Bird."
I interviewed Drayton a few years back, and here's the transcript. I hope you enjoy it …
Daniel Levis – I'm continually fascinated by the amazing variety in the backgrounds of people who find themselves writing copy for a living. In many cases, necessity has been the mother of invention, and I think it was Gary Halbert who summed it up best when he said something to the effect of, ―I look at teaching people to write copy as saving their financial lives. Because if you don't knuckle down and get this, do you know what's going to happen? You're going to have to work for a living, and it's going to KILL you! Leave it to Gary to put it so eloquently. So tell me the story of those early days, what were you doing before you began, what events lead up to your indoctrination into the world of copywriting and direct response marketing?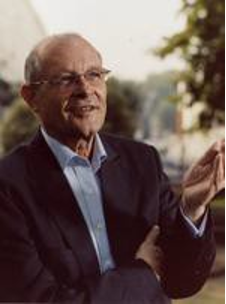 Drayton Bird — I was brought up in a pub in a rough working class area of Manchester – but I went to very posh boarding schools from the age of seven. So I was exposed to two extremes of society.
I hated my schools. I ran away from the first – and was taken straight back.
A pub is great training. You see people as they are when they've had a few drinks. You learn more from hearing old Alec tell his pals what happened when his wife left him than from any MBA course.
(Alec's reply: ―She went out for a loaf of bread – never seen her since.)
I got a scholarship to University – spent most of my time in low bars, turned down an attractive offer to become a pimp, lived in a damp, fungus decorated, mouse-infested room next to an Irish Dance hall. The fights!
Walked out of Uni after the first year, bored – my father never quite forgave me. Got a job as assistant editor on a trade mag., got a girl pregnant, married her – we're still friends after over 50 years and other marriages.
Ours was the only house in our terrace with a bathroom – but the toilet was outside in the yard. Freezing!
I needed money, obviously. A posh friend suggested advertising.
I read all the advertising books in Manchester Public Library – both of them. Took a night course. Nobody wanted copywriters with no experience (sound familiar?) But I arse-licked my way to an interview in Liverpool.
I said I could write, and had a wide range of knowledge. The interviewer said: ―How does a two-stroke engine work?‖ I told him, answered a few other questions and got the job – for £2 extra a week. I used to rise at some ungodly hour to go from Manchester to Liverpool, eat at my desk every day – and study all the books they had on advertising.
I was rebellious and got told to behave. So I wrote my first good direct mail letter to get another job – got three interviews from five letters and took the first. They then asked me to start a PR department … which I did, not very well.
Then I got a job with the biggest agency outside London handling big accounts. They didn't need anyone, but the creative director said I knew more about advertising than he did, and hired me.
Most of my copy was crap for those first years, but I kept studying and occasionally came up with something good. I was always interested, though, in the clients who wanted results, not fancy stuff.
I had a near nervous breakdown trying to get in the big London world, but three years later I was copy chief at a well-known agency, urging my clients to TEST.
When they wouldn't put me on the agency's board, I quit and went into mail order, selling a device called the Bullworker (I believe both Clayton Makepeace and Joe Vitale bought it!) That's when I met US mail order wizards, like Dave Geller and Gene Schwartz, who asked me to work for him. I should have.
In fact I also neglected opportunities with Joe Karbo, Rosser Reeves and David Ogilvy: I had to sell my own agency years later to O & M to have the fun of working with him.
By the way I disagree with dear old Gary's joke: you have to work like hell no matter how good you are or how much you know – especially if you realise, as I do, that others are often better.
Daniel Levis – One of the things I think a lot of people misunderstand about copywriting is the amount of research that goes into it, versus how much of it is actually putting pen to paper, so to speak. Suppose you had just accepted an assignment to write a sales letter for something you knew very little about. (Let's say some sort of new vegetarian diet, for the sake of example).
Can you describe the research process? How do you go about becoming knowledgeable in a hurry, before writing a lick of copy? What are your methods, in detail?
Drayton Bird — Ask who the competitors are. Go on-line and see what a customer might see. Look up anything that came up on diets – especially emotional remarks, scandal, funny lines, famous sayings, customers sounding off.
Ask why the client thinks people should choose their diet – and give me facts, figures, testimonials. Ask how it was developed. Anything about the people who developed it.
Ask what they would say to a prospect – if they had to sell or die. Tell them to record it and send it to me. Talk to my partner, who diets successfully, but has failed in the past I imagine – most dieters have. Look up anything re vegetarian versus non- vegetarian diets.
Daniel Levis – One of the most important things I've found in coming up with a successful sales letter or advertisement is the hook.  Some  kind  of  a  big  idea  that  dramatizes  the  item  I'm selling. Obviously I want to attract attention, and draw readers into the body of the piece, and inspire people's imagination. Can you tell me some of the techniques you've developed over the years for mining those golden nuggets? I mean, what are some of the thought processes you've found to be most effective in uncovering the hook? It would be wonderful if you could cite some specific examples as well.
Drayton Bird — Nothing clever, here, I'm afraid. Picture the perfect prospect. Give time for the research to sink in and stew in the brain. Read lists of headlines, look at books I value like Million$ Mailings and Dick Hodgson's book.
Years ago I wrote a mailing that ran for years, aimed at getting people to leave money to Save the Children. I drank a bottle of wine and went for a walk with the dog for an hour, taking my trusty pocket tape recorder.
I realised that my mother was a perfect prospect, and thought about her. I based the mailing on the idea of what will happen  after you die – will you leave the world a better place. An envelope message, Do you believe in life after death? worked very well – but (understandably) upset relatives of people who had died. Ha!
(By the way, half a bottle of wine is enough if you're not in training.)
Daniel Levis – Before putting pen to paper, most copywriters spend some time outlining what they are going to say, and how they are going to say it. How do you organize your thoughts? Do you have a specific method, maybe even a set of templates  you've put together over the years to fast track the development of the right outline for a given piece? Please describe the various essential building blocks that go into an outline, and some of the most important processes and constructs you use to develop them.
Drayton Bird — I'm slapdash and completely disorganised. No templates.
I just follow James Webb Young's process from A Technique for Getting Ideas. Learn, digest, scribble down anything and everything – censor nothing – leave it to stew a few days, come back after a while, start writing with fury, then correct with care – seven or eight times.
Some of my jobs have to be done much faster – overnight or in a couple of days. Everything is speeded up (desperation helps!)
Right now, I am brooding over some ads for pensions. Later I will jot down some headline ideas before I catch the plane back to London.
Daniel Levis — I look at copywriting as a transfer of energy & passion. Personally, I need to get psyched up before anything worthwhile seems to bubble up to the surface. And it's challenging sometimes. If I'm locked away in front of my computer for days trying to pump out a bunch of stuff in order to meet a deadline or whatever, sometimes it's difficult to find that spark. This is especially true for me, when I try to rewrite something. How do you deal with this? What methods do you use to stay stoked, and fresh?
Drayton Bird — I agree about passion- a much overused word. I just have to get excited. Happily I'm excitable by nature!
When stuck I just leave it alone for a bit. I don't sit writing away. Maybe I should.
I am very lucky in three respects. First, I don't specialise in anything, so often what applies in one market applies in another. Second, I have been writing and studying for 50 years now; I have a lot of other people's ideas in my head! Third, I am interested in practically everything and do have a very large fund of knowledge–  this helps, as good messages come from putting together old things in new, unexpected ways.
Daniel Levis – I don't know if there is any definitive answer to this question, but it is certainly a very important, and fundamental question I hope you can comment on. Based on your experience and testing, when does it make sense to use a two-step or even multiple  step  process,  versus  a  single  step  ―go  for  the  jugular approach‖ in your advertising? When does it make good business sense to try and generate expressions of interest, by offering some kind of a free report or something (in order to gain a lead you can then follow up on), versus driving for the sale? And are there any circumstances where you feel it makes sense to do both with the same piece of copy?
Drayton Bird — This depends, I think, on the price and nature of what you sell.
High price and complexity suggest two or three stages. Low price and simplicity suggest one.
In one of my books I think I suggest you first try stages, then if that works exceptionally well, try one step.
Daniel Levis – I think you would agree with me when I say the voice you use in a given piece of copy is critically important, and it should resonate with the market your sales letter or ad is targeted toward as closely as possible. For example, if you are selling  to  car  racing  enthusiasts,  the  more  you  use  trackside language in your sales copy, the higher your rapport and therefore conversion. So in some ways, you are like an actor getting into character.  What  methods  do  you  use  to  get  into character quickly and effectively?
Drayton Bird — This point about tone is EXTREMELY important.
Most copy – especially on-line – is written in a tone of manic enthusiasm, richly larded with jargon, half-truths and over- promises.
I can't get away with that. Right now I'm thinking about quite a few things – aimed at quite a few people:
1. Lawyers in Florida to sell printing
2. Prosperous people in England to sell three different retirement-linked products for three different clients
3. Older, less wealthy people in the North of England to sell coach holidays in Europe
4. Anyone in the UK who'll buy German Lottery tickets
5. Marketers and firms in 23 countries who might attend or sponsor a residential European training programme next June
6. Individuals and firms who might like an on-line training programme I've been working on for 8 months.
So you see I have to vary tone a lot.
To get into character, I just use my knowledge of human nature that started all those years ago behind my old man's bar.
But again, I am lucky. I have worked in 43 countries, am so old and have done so many things (most badly) that I really have met and got to know an astonishing range of people in an amazing number of situations.
You haven't lived till you've sat in the Bangkok residence of the Cambodian Ambassador to Thailand's office typing out a speech he has to make to the Americans a few days later!
Daniel Levis – You've just finished writing out a first draft on a piece of copy. Now it's time to edit. But here's the problem. You're too close to the copy. Are there any techniques you use to step out of yourself, and look at that piece of copy objectively, with fresh eyes when it comes time to edit?
Drayton Bird — Get other people to read it who know nothing about it.
My partner, Marta Caricato, has a fine mind – she's a Doctor of Philosophy and a very good writer. She often says something that makes me improve. And she has a quite different perspective because she is Italian and her background is in on-line gaming
Daniel Levis – Will you tell me the story of your wildest advertising success, and explain why you feel that particular campaign was so effective?
Drayton Bird — It's hard to think of anything I have done that was any good, but I am very proud of the Save the Children letter I mentioned. I carefully avoided asking for money in it, but it got more donations than anything they ever ran.
Emotion was, as ever, the key.
I just wrote a mailing with an email follow up for one of my two favourite clients – selling pensions – that pulled in £6.6 million rather quickly from people who hadn't replied despite being mailed a great deal. But then we always feel pleased with the latest production!
That one worked because I just asked people to tell us why they hadn't replied.
Daniel Levis – It's been said selling is a transference of enthusiasm, and I believe that's true. Some would call this hype. Whatever you want to call it, it's a valuable tool but only so far as the promise responsible for generating that enthusiasm is credible and believable. What are some of the subtle techniques you employ to maximize the believability of the promises you are conveying in your copy?
Drayton Bird — Same as everyone else. Testimonials complete with bad grammar, unposed pictures of the people, lots of stuff like, ―Hard to believe? I don't blame you. But let me explain…
But also I tend to go into great detail about small differences. One client sells driveways. I explain, ―You would never think to pick up one of the blocks and check how thick it is, but if you did you'd see that it's 20% thicker than others. Doesn't matter now – but it will as the years go by.
Daniel Levis – In your opinion, what are the three most powerful human motives to work on in your copy, and why? And how do you go about getting into the head of a specific type of buyer, so you know which buttons to push for maximum response?
Drayton Bird — Fear, Greed, Insecurity.
People fear to lose more than they hope to gain. But they sure hope to gain! And nobody can have enough security = love.
I think the answer again is to picture the perfect prospect. What do they fear – and why? What do they hanker for – and why? What do they feel insecure about?
My partner Marta wrote a very good mailing to sell a credit checking service. She started by asking the client what drove the credit managers crazy.
The answer was that they are constantly torn between pressure from the finance people who want to take no risks and the sales people, who would give credit to any old crook to make the sale.
That's how you get inside people's heads.
Daniel Levis – In your experience, all things being equal, where is the best place (i.e. headline, lead, offer, guarantee etc.) to begin split testing alternative insertions in a piece of copy, generally speaking?
Drayton Bird — Changes in the product or positioning or how it's delivered… Proposition… Incentive… Headline… Format (personalisation, number of pieces etc)… Creative (approach, length of copy, layout style, tone of voice and so on)… Response mechanism.
Of course, targeting is critical – when, where, how often.
Daniel Levis – One of the biggest things marketers struggle with is differentiation. What creative ideas would you offer someone trying to build a Unique Selling Proposition for a very mundane product or service that doesn't really offer anything unique?
Drayton Bird — Look through all the competition. You can bet none of them tell the whole story. Every little thing left out is a sale lost.
Look for a totally different format, style, tone of voice. Can you make it more personal, human, real?
Daniel Levis – What advice do you have for new market entrants? How can someone with little or no track record enter a market with a new product or service and profitably compete with entrenched players?
Drayton Bird — Remember the first aim of business is to avoid making a loss, NOT to make money, therefore:
1. Be as cheap as you can. Don't spend a penny unless you have to.
2. Always look at what could go wrong, not what you hope will make squillions.
3.  Research, research, research. Search the world and steal the best. Try to improve what's already there.
4. Make sure your offering has significant superiority.
5. Talk to likely prospects – on line in forums or off, wherever you can. Ask them about their frustrations with what exists.
6. Don't assume you're right and they're wrong. It's their money you want, not your own.
7. Do deals. Try to get access to names on other people's lists. Don't worry about profit you're not getting; think about money you're not risking.
8. Use questionnaires.
9. Beware of any adviser who says he can make it easy for you. Nothing good comes easy.
10. Write down: People should buy this because – and add as many reasons as you can.
11. Try and sell it face to face yourself.
12. Never give up – if this doesn't work, try something else
"Courage is the ability to go from failure to failure without loss of enthusiasm." Winston Churchill
Daniel Levis – OK, closing question, thinking back over your career to date, what was the single biggest income boosting aha moment… the one idea, technique, or revelation that made the biggest difference in your results from that point forward?
Drayton Bird — The realization that you should quantify.
I was running an ad that said, ―How to Build a Power-packed Body. That changed to ―How to Build a Power-packed Body in 5 Minutes a Day. Sales went up. When we ran ―These 7 exercises can build you a Power-packed Body in Exactly 49 Seconds a Day, we hit the jackpot. That ran for 14 years.
For more good stuff from Drayton Bird, go here and grab his 51 FREE helpful marketing ideas, all proven and tested to improve results. Yes, he may try to sell you something at some point. Whatever it is, buy it.