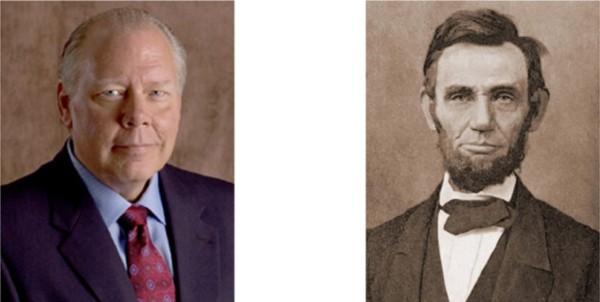 OK, so you may know the guy on the left, Clayton Makepeace, as my dearly departed mentor and perhaps the greatest copywriter of the century… but what in the heck's honest Abe doing in the picture?
Glad you asked …
As you may or may not know, Lincoln was one hell of a writer.
In fact, he wrote one of the most famous and revered pieces of "copy" of all time: The Gettysburg Address.
For a few moments, let's imagine it's November 19th 1863 …
The weather is cool. There are clouds in the sky. Around noon, we arrive at the scene of the great Gettysburg battlefield to dedicate a cemetery.
And to honor the dead …
15,000 people have come to hear Edward Everett and Abraham Lincoln speak. Everett is Harvard educated, widely considered the greatest orator of the time. Many deem Lincoln a country bumpkin, and an embarrassment to his country.
For almost two hours, President Lincoln listens to the speech by Edward Everett. His voice is powerful. He speaks of ancient burial ceremonies, and gives marvelous accounts of the battle of Gettysburg. He tells how the young soldiers who died there should be honored and remembered. At last, Everett finishes.
Moments later a man stands and announces: "Ladies and gentlemen, his Excellency – the president of the United States, Abraham Lincoln."
The president leaves his chair and walks slowly forward. The huge crowd becomes silent as he awkwardly approaches the podium. He begins to speak.
"Four score and seven years ago …"
The rest is so familiar that any precocious 5th grader in America can recite it for you to this day.
When Lincoln spoke, he immediately connected with his audience, and touched their hearts. He spoke to their needs, hopes, dreams, and hurts so deeply that within the few minutes it took him to read his 275 word address there wasn't a dry eye in the place – including the eyes of Edward Everett.
The great orator was so moved in fact, he later begged Lincoln for a copy of his speech, admitting that Lincoln had said in two minutes what he could not say in two hours.
What was it about the words Lincoln spoke that day that caused them to be later translated into 28 languages and remembered 158 years later, while only historians can tell you what Edward Everett said?
Fast-forward 158 years to the present day. You're sitting at your computer and "you've got mail". It's Clayton Makepeace …
You take a quick look and your heart quickens. It's a promotion. There's something to buy. He wants to sell you something. Hungrily you open it to watch him in action.
The lead that Clayton uses in this particular email uncorks the same magic that Lincoln used in the Gettysburg address. Under a picture of Clayton on his Harley, the copy reads …
Dear Business Builder,
Whether you're a fellow biker or not, you want the same thing I do: We want it ALL:
The money to plunk down for that righteous new Screamin' Eagle Electra Glide Harley we're itching for — or for anything else we crave …
The freedom to blow off work and get into the wind – or to do anything else that pleases us – whenever we damn well feel like it …
The respect of our equals — and the time and money to make ourselves heroes in our own houses …
It's an unusual and highly potent lead, don't you think? In just a few words he's connected with you, and almost forced you to create vivid mental images in your mind's eye about the things you want.
He's virtually climbed right out of your computer monitor, sat down beside you, and together, you're going to look this thing over …
You may not want a Harley, but you sure as hell want something… be it a boat, or a car, or some other cool piece of machinery… and instantly that something pops into your mind as he paints the mental image of what gives him his kicks.
You may not want to head into the wind on a motorcycle, but there's something you're itching to do instead of work all the time… and instantly you start fantasizing about doing that something when you visualize him doing his thing. And so on …
All of a sudden you're full of desire, and your mind is open to taking action toward satisfying it!
I call this the power of "WE".
The entire buyer/seller dynamic dissolves. You and the prospect become like siblings.
When Lincoln gave the Gettysburg address he wasn't selling copywriting secrets, but he was selling something. Lincoln desperately needed to sell people on the importance of the war… and to solidify a commitment to equality, and liberty for all, for which the nation was paying such a heavy price.
He did it, by using the power of "WE".
Obviously there is a huge difference in the nuance of the language and the purpose of the communication between a sales promotion from Clayton Makepeace and the Gettysburg address, but the fundamental principle runs through both.
They both make very deliberate use of certain words and sentence structures that created a human bond between the speaker and the audience.
Observe how many times Lincoln used the words "we", "our", and "us" in the Gettysburg address. Try to contemplate the meaning of his words in context of what those 15,000 people were feeling on the battlefield that day as they listened.
Four score and seven years ago our fathers brought forth on this continent, a new nation, conceived in Liberty, and dedicated to the proposition that all men are created equal.
Now we are engaged in a great civil war, testing whether that nation, or any nation so conceived and so dedicated, can long endure. We are met on a great battlefield of that war. We have come to dedicate a portion of that field, as a final resting place for those who here gave their lives that that nation might live. It is altogether fitting and proper that we should do this.
But, in a larger sense, we cannot dedicate – we cannot consecrate – we cannot hallow – this ground. The brave men, living and dead, who struggled here, have consecrated it, far above our poor power to add or detract. The world will little note, nor long remember what we say here, but it can never forget what they did here. It is for us the living, rather, to be dedicated here to the unfinished work, which they who fought here have thus far so nobly advanced. It is rather for us to be here dedicated to the great task remaining before us – that from these honored dead we take increased devotion to that cause for which they gave the last full measure of devotion – that we here highly resolve that these dead shall not have died in vain – that this nation, under God, shall have a new birth of freedom – and that government of the people, by the people, for the people, shall not perish from the earth.
As you read those words, you could almost believe that the dead men were Lincoln's brothers, or his sons, or his father, and that the audience were his kin. This sense of connectedness is the essence of effective communication, and one of the secrets to higher response.
Of course it goes without saying that like so many other words in the English language, the words "we", "our", and "us" have multiple meanings, depending on how they appear in a sentence. In the context of sales copy it's very important to use them in the proper way.
These words can mean "you and the rest of the good folks at your company", or they can mean, "you and your prospect". Big difference. The first one "The Royal We" should be used sparingly, and the second liberally.
Here are a few more principles of persuasion from Abraham Lincoln. As you read them, consider the copywriting parallels.
Invest time and money in better understanding the ins and outs of human nature.
Remember, human action can be modified to some extent, but human nature cannot.
Showing your compassionate and caring nature will aid in forging successful relationships.
Remember that your followers generally want to believe that what they do is their own idea.
If you would win a man to your cause, first convince him that you are his sincere friend.
A good leader avoids issuing orders, preferring to request, imply, or make suggestions.
Don't surrender the game leaving any available card unplayed.
Take advantage of confusion, desperation, and urgency to exercise leadership.
Always let people know that the honor will be all theirs if they succeed, and the blame will be all yours if they fail.
Speak in simple and familiar strains with people, without any pretension of superiority. Leave people with the impression that they've known you all their lives.
Don't forget that humor is a major component of your ability to persuade people.
Remember that people are more easily influenced through the medium of a broad and humorous illustration than in any other way.
You will often avoid a long and laborious explanation with a story that demonstrates your point of view.
The point I want to make today is that copywriting and marketing wisdom doesn't begin and end in the marketing pages.
Sometimes the inspiration you're looking for can come from the most unlikely places…
Personally I find myself mesmerized by a good political debate (hard to find one these days)… often I find myself captivated behind the wheel of my car after tuning in to a rousing religious sermon… and I love to watch a trial lawyer at work in a courtroom drama.
Powerful and inspiring persuasion ideas abound, and are waiting for you to synthesize and adapt to the purposes of your business. And those ideas are currency.
Until next time, Good Selling!