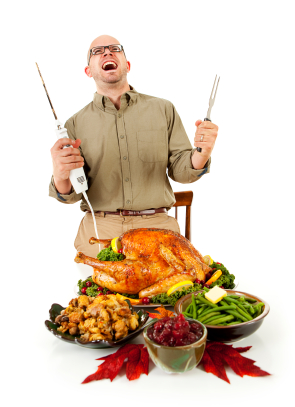 Imagine if every day was Thanksgiving, and gratitude was your permanent state of mind.
What would it mean?
I submit it would mean greater levels of wealth, health, and happiness all around.
Here's why …
To be thankful for something means we appreciate its value. We see the good in that thing. Conversely to be discontented with something means we see the bad and the useless in that thing, and discount its value.
But as the Bard of Avon wrote, "Nothing is good or bad, but thinking makes it so." These 10 little words are much more than a clever little bit of iambic pentameter. They hold the keys to the kingdom, because the mind attracts that which it thinks about most.
Thoughts are things. An idea held in the mind consistently can't help but manifest itself in the life of the thinker.
Is this the result of some kind of metaphysical magic?
I prefer to think of it in more practical terms …
John Smith and Jim Brown both work at the same midwestern manufacturing company. Both of them get downsized out of their jobs just two weeks before Thanksgiving.
John is indignant about it. It's just not fair, he reasons. And although he hated his job anyway, he is very discontented with being unemployed. Fear of remaining so consumes his mind. Opportunities for advancement are all around him, but he can't see them, because his mental antenna is attuned to joblessness.
Jim Brown on the other hand, sees unemployment as nothing more than an opportunity to spend some time looking for a better way to make a living. And because that's what he's looking for, he soon finds it.
Success at anything in life isn't really much more complicated than that. It's just mental discipline: training your mind to be appreciative of the things you have and using them as stepping-stones to getting more of what you want. Everything happens for a reason, good, bad, or indifferent.
Regardless, it's your job to find value in the situation and use it to your advantage.
The Power of Your Mind to Think Independently
Is Your Greatest Gift …
Isn't it time you threw off the negative social conditioning that's fooled you into accepting other people's fears, anxieties, limitations and negative attitudes as your own?
Very few people have the wakefulness to do it. Instead, they sleepwalk through life, complaining about their circumstances, thinking about what they don't want, and looking for someone to blame. And they're miserable and unproductive as a result.
The only thing any of us has total power over is the meaning we ascribe to our life experience. Yet how frequently we fail to use that power. Instead we fume, fuss and worry about outcomes we can't control.
Let me tell you a story that illustrates how powerful the human mind is at filtering experience …
Victor Frankl was a Viennese neurologist and psychiatrist. During WW2 he found himself on a train to Auschwitz, one of the infamous Nazi concentration camps where 6 million people were burned alive in gas ovens.
Upon arrival, he was one of the 5% who were spared immediate incineration. These "lucky" individuals were taken aside and made ready for Nazi work camps in the German interior. Frankl was stripped naked, shaved from head to toe, and the number 119,104 (his new identity) was tattooed on his body.
The following dawn, just before leaving for the camp, he watched his best friend floating up to heaven in a cloud of smoke. Frankl's wife, whom he'd been separated from earlier in the melee, was also incinerated. Luckily for him, he only found out after the war.
Conditions were so deplorable in the camps that prisoners usually lived for only a few months …
Imagine yourself going through what Frankl did:
The humiliation of brutal beatings at the hands of the SS guards …

Having to dig trenches through the frozen topsoil in bitter sub-zero winds wearing nothing but filthy rags and ill-fitting wet shoes … hand-me-downs torn from the corpses of prisoners already succumbed …

Not being able to sleep for more than a few hours at a time due to the pestering of vermin and lice in overcrowded quarters where men lay packed like sardines on bare wooden floors in their own filth and excrement …

Subsisting on a cup of watery gruel, 5 ounces of bread, and the occasional slice of poor quality sausage or cheese each day as your body slowly but surely devours itself …

Watching the living prisoners pilfer the "belongings" of the dead, approaching the still warm corpses to pinch the remains of a messy meal of potatoes, or exchanging shoes with the unfortunate cadaver if they looked like an improvement …
The suffering of the dying and the dead became so commonplace they soon failed to move Frankl, and he joined his fellow prisoners in a kind of emotional death. Disgust, horror, and pity were no longer possible.
What possible "spin" could you put on something like that? How could you possibly look on the bright side of such an experience, where such little hope exists … and where so little possibility of pleasure or escape from pain is possible – save death?
In Frankl's own words: "The prisoner who had lost faith in the future – his future – was doomed. Without his belief in the future, he lost his spiritual hold: he let himself decline and became subject to mental and physical decay.
Usually this happened quite suddenly, in the form of a crisis, the symptoms of which were familiar to the experienced camp inmates.
It began with the prisoner refusing one morning to get dressed and washed or to go out on the parade grounds. No entreaties, no blow, no threats had any effect. He just lay there, hardly moving. He simply gave up. There he remained, lying in his own excreta, and nothing bothered him anymore."
How Frankl Survived …
Frankl avoided this fate by finding meaning in his experiences. He imagined himself standing at the podium of a warm and well-lit lecture room, addressing an appreciative audience seated in comfortably upholstered chairs. He was giving a lecture on the psychology of the concentration camp.
He used the power of his mind to become an objective observer, watching the proceedings from the remote viewpoint of science – as though they had already happened.
He, and his troubles, became an interesting psycho-scientific study. Using this "frame" he survived for three long years while hundreds of prisoners – one by one – gave up and died all around him in abject misery.
Now I ask you, if Frankl could turn those lemons into lemonade, what about you? Do you think you can find a way to be grateful for all of the crap in your life? Do you think you might be able to turn it to your advantage?
After the war, Victor Frankl spent 9 days writing the narrative that outlined his findings, and published the book, "Man's Search For Meaning". This little one-sitting book has been published in 19 languages, and is now in its 73rd English printing, having sold almost two and a half million copies in English alone.
Frankl's experiences in the Nazi death camps laid the foundation for a whole new branch of psychotherapy that he developed upon his release. It's called Logotherapy, and this bold new approach has helped millions of people to lead more meaningful and rewarding lives.
In short, the premise behind Logotherapy is this: Where traditional psychotherapy focuses on the past, attempting to dredge up repressed memories that are causing the patient suffering, and attempting to resolve them, Logotherapy encourages the patient to focus on the meaning of their future life.
What a concept.
Frankl believed man's search for meaning is his strongest motivation, exceeding all other instinctual and ego-based drives. The big reframe that saved his life was the realization that it doesn't really matter what we expect from life. What matters is what life expects from us… and that when man finds that it is in his destiny to suffer, he will have to accept his suffering as his task, and be grateful in his ability to find meaning in it.
Victor Frankl died in 1997, at the ripe old age of 92.
Is There a Marketing Lesson Here?
In fact there is. Maslow's hierarchy of human needs, on which most marketing motivational theory is based, takes a bottom up approach. It says that our motivations are the result of ascension from physiological needs … to safety needs … to love and belonging needs … to self-esteem needs … and finally to self-actualization needs.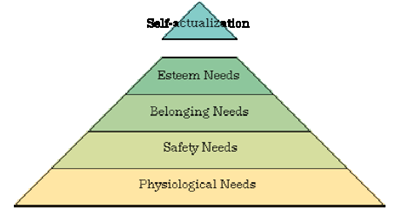 Maslow's central premise is that human need moves in an orderly procession up the hierarchy. Until a person's physiological needs (such things as food, water, sleep, the avoidance of pain, etc.) are met, he or she will be unmotivated to pursue safety needs (order, structure, freedom from fear and anxiety, etc.), and even less so for belonging needs (affectionate relationships, friends, social contact) and so on up the hierarchy.
Likewise, once a lower need is largely met, the next one up automatically becomes a dominant motivational force in the person's life. Obviously, there is some truth in this.
But Frankl's theory turns the model on its head. He says that man's primary motivational force is a search for meaning, which corresponds to the self-actualization needs at the very top of Maslow's pyramid.
Frankl even goes on to say that there exists in society today an existential vacuum – a widespread and growing emptiness in people's lives, characterized by boredom, and a deep longing to derive more meaning from both work and leisure.
These self-actualization needs are largely overlooked and untapped by most marketers, because it's assumed that only a small portion of the population can be motivated by them.
Frankl's research indicates the contrary may be true.
Could It Be That Human Beings Are Searching for Meaning In All the Wrong Places?
Even people who have lost their way are looking for these things… perhaps at the gambling table or at the bottom of a bottle of gin…
After studying his book, I decided to test self-actualization appeals in my sales copy. And I was astounded by what I discovered…
We really are fundamentally motivated by a search for significance and meaning in our lives…
To contribute to the well-being of those around us…

To believe that what we are doing with our lives is important, not just to us, but to others, as well…

Even to be remembered after we're gone… and to know that our lives meant something and mattered …
When people lack these things in their lives, they descend into despair, loneliness and boredom. They often confuse these symptoms with the disease. And they try to kill the pain in ways that never can.
Most marketers are more than happy to play along. But I know there are great rewards in going deeper.    
I know these are not just nice-to-have side benefits to use in your marketing.
I know they are fundamental drivers of human behavior… an invisible undercurrent beneath all other human cravings.
It's what gives us the indomitable drive and determination to win…
… To build businesses against all odds and to power through strain and adversity.
… To maintain or to take back our health and build a strong mind and able body.
… To love and to care and to tirelessly bring people together and lead them toward a better world.
… To feel pain and fear, and to forge ahead anyway.
… And to live our highest destiny.
What do you think?
Is that what people really want?
Can you really sell to people's higher nature?
Do you build a better list of subscribers, customers and clients when you do?
Give me your two-cents in the comments box below.
And have a safe, happy, and meaningful Thanksgiving.