In my last post, I explained how every successful online entrepreneur has started and grown their business empire using one, or a combination, of 10 proven profit frameworks…
… Which altogether give you a simple set of blueprints for an extraordinary business.
I then shared the first 5 online business blueprints with you.
Today we'll take a look at the last 5 online business blueprints, which include:
Mastermind Model
Membership Model
Marketplace Model
Faculty Model
Virtual Summit Model
With all 10 blueprints in your arsenal, you'll have a road map to start virtually any business online.
So let's get started…
Model #6: Mastermind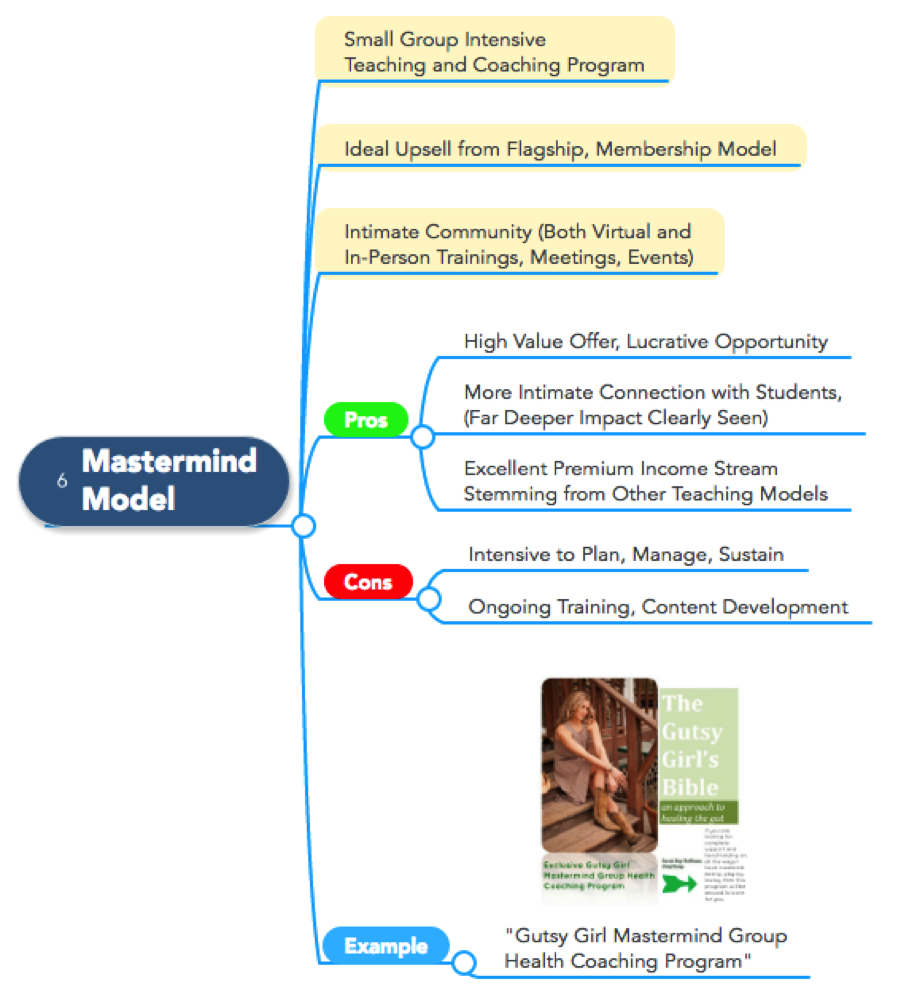 The Mastermind Model is a small group coaching intensive.
This is where you share your wisdom on a one-to-one or one-to-few basis, and act as a sort of facilitator for the sharing of information among all of the group participants.
Coaching programs can range in size from a dozen or so members to many hundreds, with a cost ranging from $5,000 per year to upwards of $100,000 per year and more.
Generally speaking… the size and cost depend on how much you charge each participant, how much time and attention you give them, and the subject matter at hand.
The Membership Model is an ideal upsell from a Flagship or Membership Model.
Someone that's already bought from you, or has been following your work, will often decide to invest more time with you to get additional information and support.
A mastermind is an intimate community that not only gives them a way to get the extra support they need from you, but also from other members of the group. This typically includes both virtual and face-to-face meet-ups.
You might meet in person two or three times per year in a designated physical location, where you teach and discuss specific subject matter or topics of interest to the group.
You might have live coaching calls on a monthly basis through an online meeting platform like GoToMeeting or Zoom, or through a phone conference line like Instant Teleseminar.
Plus, you will likely have a private group such as a Google Group or Facebook Group, where members can interact to give and get support.
In short, the Mastermind Model is much more intensive with a lot of touch points.
More importantly for you, it's an excellent premium income stream that stems from all of your other business activities.
You have a base set of products or services that are generating leads and sales for you. Then you feed those leads and sales into your ongoing mastermind, where your members pay you on a recurring monthly or yearly basis.
I could rattle off dozens of examples of low-cost and premium mastermind programs in the online marketing space. But rather than do that, I want to really drive home the fact that this is a valid model for just about anyone, in just about any niche.
So I want to share with you an example in the personal health niche.
This is a support group from Sarah Kay Hoffman for women with Inflammatory Bowel Syndrome called the Gutsy Girl Mastermind Group Health Coaching Program.
She says, "If you are looking for complete support and hand holding on all the ways I have mastered: eating, playing, loving, then this program will be second to none for you."
So this is a great example of a mastermind group that caters to a highly specialized market.
There are lots of different kinds of focused mastermind groups, in virtually every market you can imagine. I encourage you to investigate those in your own market.
Model #7: Membership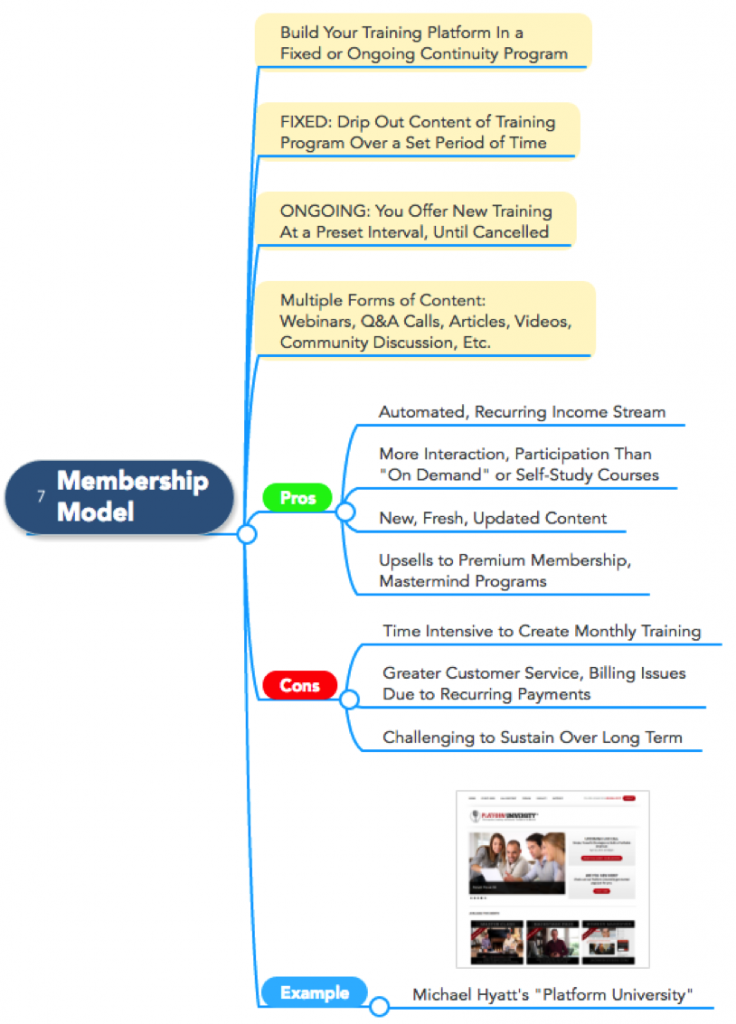 It's a fair bet you've been on the buyer side of the Membership Model at some point in your life, even if it's as simple as a membership to your local gym.
Simply put, it's selling your products or services in a fixed-period or ongoing manner.
An example of a fixed-period membership would be dripping out your content over a period of 12 months for 12 payments of $97. That would translate to roughly $1,200 for the annual program. Once they complete your 12 month program, they're finished.
An ongoing membership is no different than paying your monthly phone bill. You release new content every month for a set monthly membership fee. Your members pay you each month for as long as they wish to receive your new content.
You may also choose to run your membership program in tandem with your product.
In other words, you already have a training product created but you realize your students want more. They've taken your program, they've enjoyed it, and they want more.
More lateral training… more advanced training… or training on related topics.
As opposed to the University Model, where you create all these courses and sell them individually… you might say, "hey I'm just going to build a membership program, and offer new, live, up-to-date training each and every month and offer great value."
You could even feature different forms of content each month… webinars, Q&A calls, articles, videos, a blog, a private community for ongoing discussions, etc.
These are all hallmark features of the Membership Model.
Michael Hyatt is a great example of the Membership Model.
He's an avid blogger, with an exceptionally strong following, primarily around the areas of social media and leadership. His membership program is called Platform University and it's all about helping you build your platform and get noticed in your market.
It includes podcasts, live webinars, monthly case studies, and a great discussion forum.
Model #8: Marketplace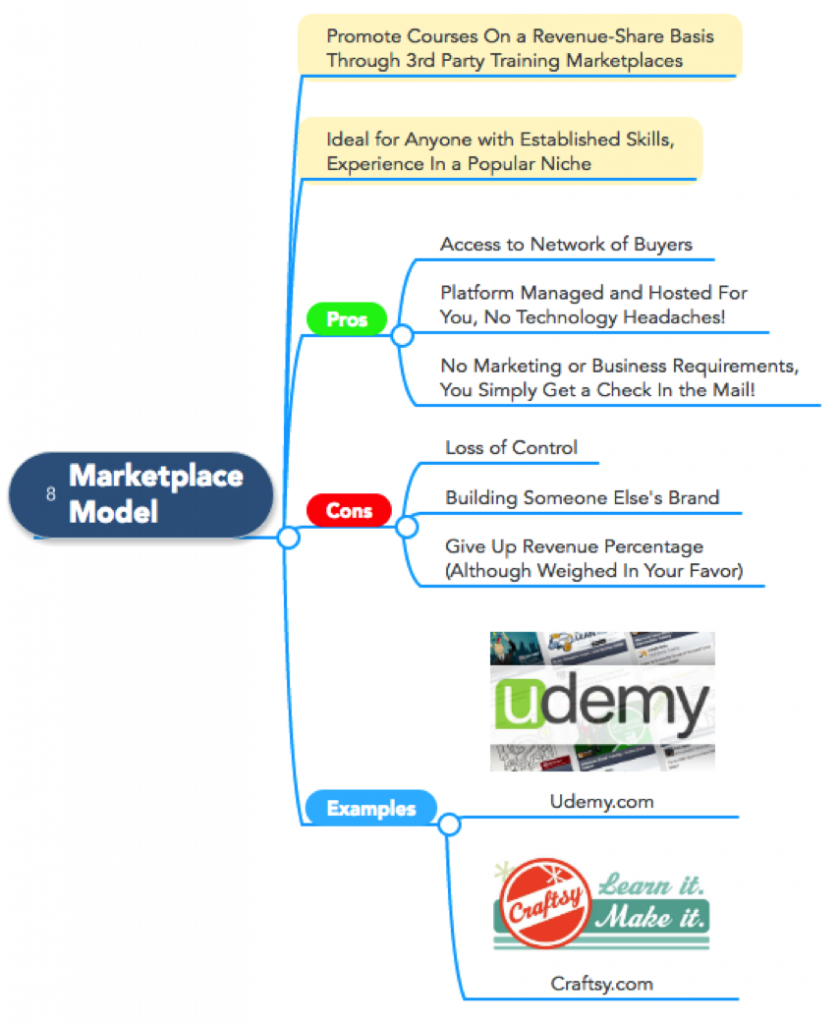 The Marketplace Model is where you leverage established third-party marketplaces to promote your training programs on a revenue-share basis.
So you can team up with a marketplace like Udemy or Skillshare…
… Or a more specialized marketplace like Craftsy (if you're in the sewing or quilting space) or Creative Live (if you're into art, photography, music, or crafts).
All sorts of these boutique, niche training marketplaces are popping up right now because elearning is growing so quickly.
Take Udemy, for example.
At the time of this writing, Udemy will pay you 70% of the total revenues from any training course or program you sell through their platform.
You create the content and they give you access to sell it on their training platform, where people are already seeking out and buying training programs.
Since it's hosted on the third-party marketplaces platform, they take care of hosting your program… managing the updates and security of the platform… running the shopping cart and ecommerce… and everything else involved in selling your program.
So you're not having to deal with those headaches or costs.
It's ideal for anyone with an established skill-set and experience in a specific niche, where you can go and easily earn money. That makes it a popular model for beginners.
Of course, it's important to note that you also lose control of the most valuable asset, the customer… as well as a significant chunk of the profits. So I'll stress here that it's a great way to dip your foot in the water and start earning an income, but it's not a great long-term strategy.
I've already shared some great examples here, but to summarize…
Obviously, Udemy.com… go check them out. They're one of the biggest marketplaces out there.
Also, Craftsy.com… check them out as well, as they're a great example of a niche marketplace that's oriented to a specific hobby market.
There are new niche training marketplaces popping up virtually every month.
Model #9: Faculty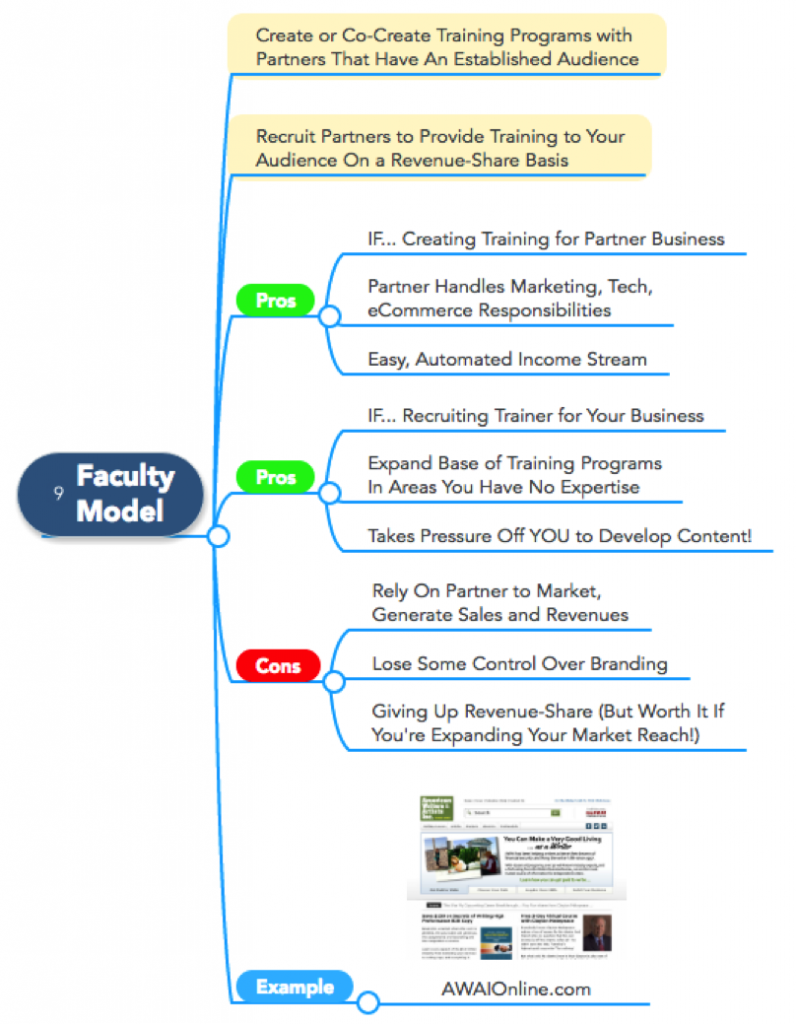 The Faculty Model is where you collaborate with partners that already have an established audience.
You actively seek out other experts in your market that already have an established training business, but don't have programs related to your specific expertise and skill-set.
You go to them and you say, "Hey listen, I'll create this course specifically for your audience, you sell it on your platform, and we'll split the profits 50/50."
They'll likely want a little more (say 60/40) since it's their platform. But it's all negotiable.
Alternatively, if you already have a platform and audience of your own… you recruit partners to provide training to your audience on a revenue share basis. They essentially become a "Faculty Member" (as you would call any teacher in a traditional university setting), and they provide their expertise for you to market to your audience.
I typically negotiate a 40-45% split for the partner, and a 55-60% split for my client.
My client has the audience, the brand recognition and loyalty, and the established training business. The partner creates the course, so they don't have to worry about the marketing or any of the technical aspects of selling and delivering the training.
In short, when you create training for a partner's business, the partner handles all of the marketing, all of the technical, and all of the e-commerce responsibilities.
You simply deliver a completed training course and collect a share of the revenues.
It's an easy, automated revenue stream for you. People will continue to buy your programs from your partner, and your partner will continue to send you a check each month. So it creates a nice, potentially passive income stream.
Of course, it works both ways, you might be the one recruiting a partner to create training programs for your business…
It allows you to expand the base of your offerings, especially in areas that you don't have expertise. The last thing you want to do is fake it by creating training programs in areas where you're really not that skilled.
Bring trainers in with that expertise, have them deliver the training, and share the revenues.
So you can quickly and easily expand the capacity of the trainings you offer, and it takes the pressure off you to deliver every single program. It can really simplify your life at times.
A great example of the Faculty Model is American Writers & Artists Inc at AWAIonline.com, which offers training in copywriting, travel writing, photography, and graphic design.
If you look at their online catalog, you'll see quite a variety of online courses, workshops, live events, and self-study programs. You'll also see that the majority of their training is done by outside experts and then branded and sold under the AWAI brand name.
So it's a perfect example of the Faculty Model, and how extensive and lucrative it can be.
Model #10: Virtual Summit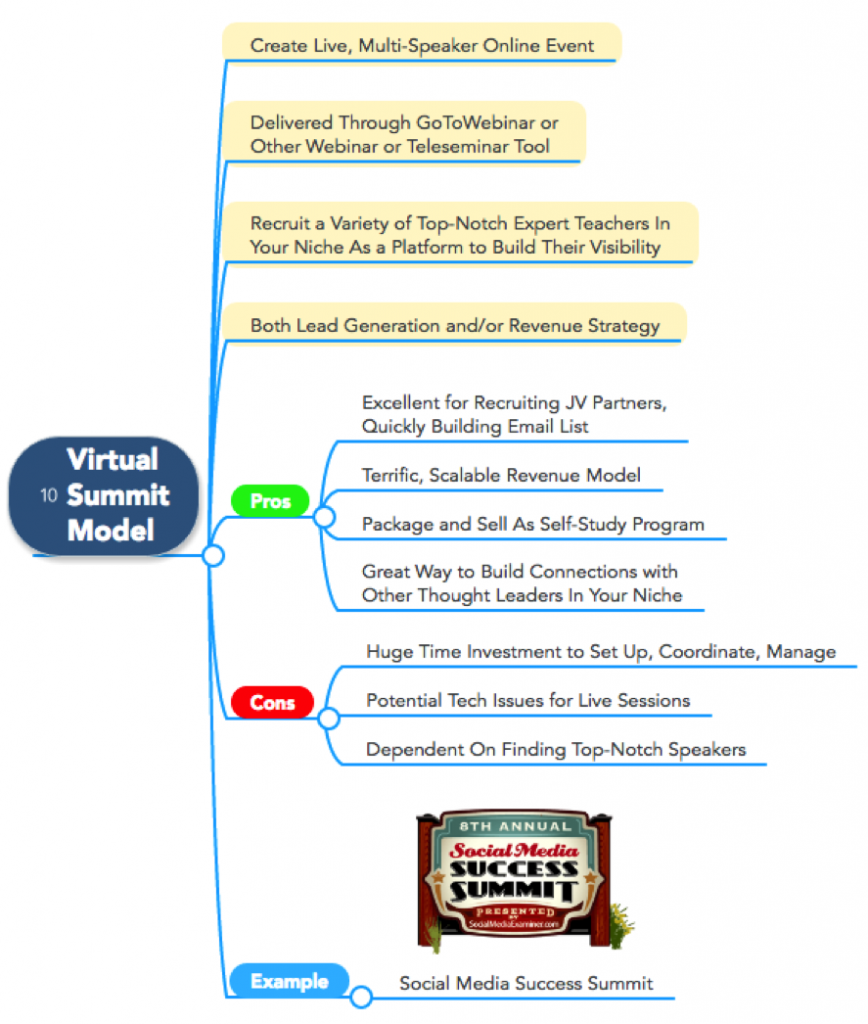 The Virtual Summit Model is where you create a live, multi-speaker online event.
It requires a lot of work to pull off successfully, but it can be incredibly lucrative.
As with the Workshop Model, there are all sorts of ways you can deliver a virtual summit, including GoToWebinar, WebinarJam, and Instant Teleseminar.
It's really a matter of preference, but you do have to keep in mind that you'll have other experts delivering training sessions. So it's best to choose a delivery method everyone will be comfortable with.
The way a virtual summit works is…
You recruit a variety of top-notch, expert teachers and speakers in your niche as a platform to build their visibility. You go to them and say, "Hey, I'm running a virtual summit. It's a chance to get your name out there and give away a free lead magnet, so you can build your list."
It's a great list building strategy for both of you, and a great selling tactic for you to bring high-quality experts into your virtual summit.
Overall, it can be a very effective strategy for generating both leads and revenues.
You could host a free virtual summit as a way to build your email list, and then offer a paid training program later down the road…
… You could also sell the recordings of each speaker session as a package during and after the virtual summit…
… Or you could even charge a registration fee to attend the summit itself.
A great example of the Virtual Summit Model is the annual Social Media Success Summit.
Hosted by the popular social media blog, SocialMediaExaminer.com, for the last 10 years, it has phenomenal reach, it brings in a lot of awesome speakers, and it's created a multi-million-dollar income stream for them.
So now, I want to leave you with one final thought…
A Simple Three-Pronged Formula for Success
It's easy to look at all these different models and get overwhelmed at the thought of having to build out one or more of them to create a profitable online business.
So I want to give you a disarmingly simple, three-pronged formula for getting started…
Step #1 – IMITATE:
Study what successful online experts are already doing and do the same thing.
Underlying every success is a specific framework, or a way of doing things, that's proven to work over and over. Study what they're doing and figure out what it is.
Please understand, I am NOT saying you should flat-out copy or steal from other people. I'm saying you should model what they're doing and learn from it to create your own success.
Step #2 – ASSIMILATE:
As you take the actions required to model other experts, you'll eventually get to the point where you'll begin to understand WHAT you're doing and WHY.
It will no longer be foreign or new to you.
That's the point where you start to make real progress and it's when things will start to get exciting for you. When you understand how and why you're doing what you're doing on a deeply intimate level.
Step #3 – INNOVATE:
Once you've modeled what works, and you've gotten to the point where you actually understand what you're doing and why, then you're ready to start innovating.
That's when you start to naturally and intuitively create new ways of doing things, and it's when you really start to build your online business on a truly massive scale.
You now have 10 proven, quick-start profit blueprints for starting your online empire.
All you have to do now is find people who are already having success. Study them, model them, and improve upon them to create your own success.
And please leave a comment below. We appreciate the feedback.
Until next time, happy selling!
Paul