If a dozen of the world's best copywriters are telling you the same thing… you might just want to listen.
Well here's how a few of the big shots approach this all-important skill for creating irresistible, persuasion-packed copy.
Ken McCarthy, the father of internet marketing, says:
"Write BULLETS that wound, with the only remedy coming from buying the product."
Ryan Deiss of Digital Marketers says: "There really is no other way [besides bullets] to convey so much information in a small area without overwhelming the eye with paragraph text."
A-list copywriter Paris Lampropoulos writes 300+ bullets when he only needs a fraction of them, because they're that important.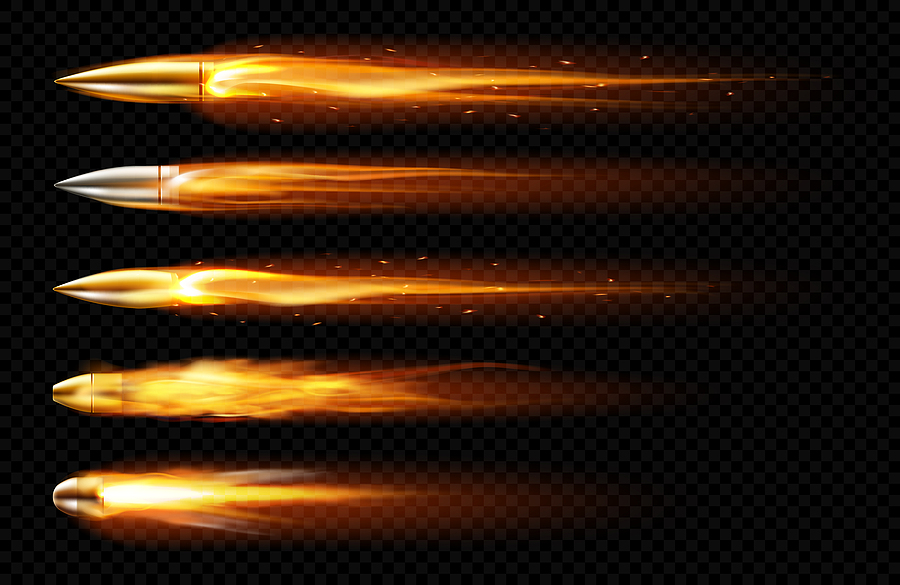 And even through we've talked about bullets before in these posts, since it's the #1 copywriting skill, it deserves repetition, emphasis, and more repetition.
Because writing great bullets makes you better at writing everything… headlines, subject lines, product names, captions, subheads… you name it.
You also make your copy more engaging to read, create a dual readership path, pull people back who are about to bail, create insatiable curiosity, and a myriad of other benefits to increase sales and haul in more clients.
But today, instead of giving you a smorgasbord of hot bullets, we'll focus on one of the most brilliant and unbeatable bullet virtuosos to ever tickle a keyboard.
Greatest Bullets of All Time?
He was the secret weapon of Boardroom, Inc., who helped take the fledgling startup from an idea and a cramped desk in CEO Marty Edelston's basement… to a $150-million-a-year company.
The secret weapon was Mel Martin and his genius is legendary, although he was far from famous.
In fact, when Boardroom won direct marketing awards, they would never reveal Mel Martin's name for fear some dastardly competitor would try to lure him away.
But if you don't think you've seen his work, how about this famous line:
"What never… ever to eat on an airplane!"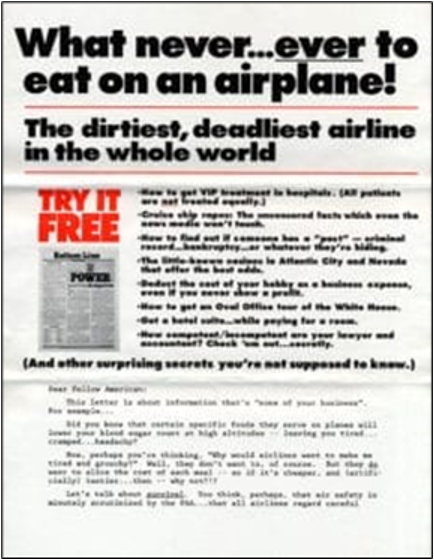 There's a lot more coming right up, but first, here's a quick story of how powerful his bullets were.
Martin maintained a massive database of "fascinations" (Boardroom coined the synonym) he'd created after reading Boardroom's newsletters – Bottom Line/Personal, Boardroom Reports, Tax Hotline.
Then, when Boardroom needed a book that was basically a compilation of the newsletters, they'd go to Martin who'd create a mailing from his database of bullets to sell the upcoming book – which did not yet exist.
Then, Boardroom's editors would create a book BASED ON MARTIN'S DIRECT MAIL PACKAGE, which was the exact opposite way you were supposed to promote and market a product.
But that was the power of Martin's bullets – they built the product based on his persuasive marketing instead of the other way around.
A Medley of Fantastic Fascinations
Now let's take a good look at the method to this marketing master's madness.
And let's check out his brilliant bullets by category, for instance:
GOLF!
Here's an image of the ad Martin created and I've typed out a sampling of his amazing bullets so you can actually read them.
And notice that there's very little copy in the traditional sense of paragraphs and sentences. Even the "normal" paragraphs on this page are just a continuous running stream of bullets.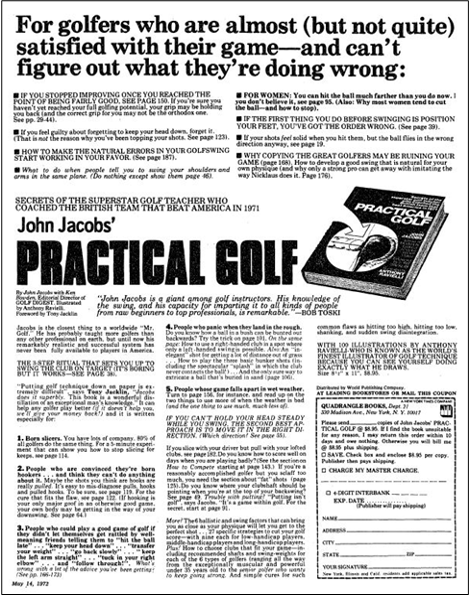 ◼ IF YOU STOPPED IMPROVING ONCE YOU REACHED THE POINT OF BEING FAIRLY GOOD, SEE PAGE 150. If you're sure you haven't yet reached your full golfing potential, your grip may be holding you back (and the correct grip for you may not be the orthodox one. See pp. 29-44).
◼ What to do when people tell you to swing your shoulders and arms in the same plane. (Do nothing except show them page 46).
◼ FOR WOMEN: You can hit the ball much farther than you do now. If you don't believe it, see page 95. (Also: Why women tend to cut the ball–and how to stop).
One more thing.
I've maintained the formatting the way Martin designed it because he was constantly changing the look – from ALL CAPS, to bold, to italics… with numbered lists alternating with bulleted lists and blocks of text.
That way, there's nothing boring, repetitive, or predictable.
Now let's check out…
BIRD WATCHERS! 
That's right, bird watchers! Mel Martin was nothing if not adaptable.
And notice in all of his bullets how hard he hits the curiosity… it's unrelenting.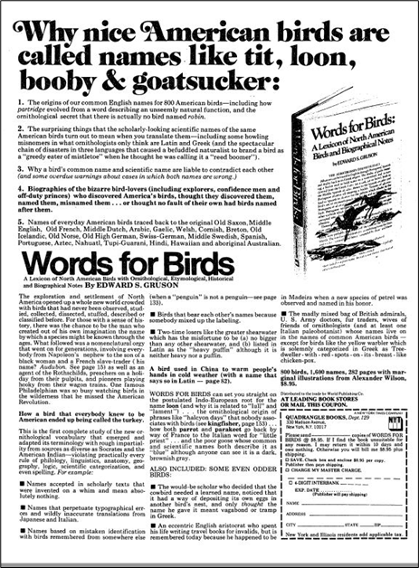 In fact, when researching his bullets I was sucked in by the unsuspected meaning of the name "partridge," because the first bullet says:
The origins of our common English names for 800 American birds  – including how partridge evolved from a word describing an unseemly natural function…
So I looked it up:
"English word partridge comes from Proto-Hellenic *pérdomai (To fart loudly.)."
He creates powerful curiosity and it was even more effective because these ads were before the instant access Google gives us.
Anyway, here are a few more of the complete bullets from the full-page ad.
Notice how he uses italics, bold fonts, parenthesis, quotes, and a numbered list to keep changing up the the visual presentation: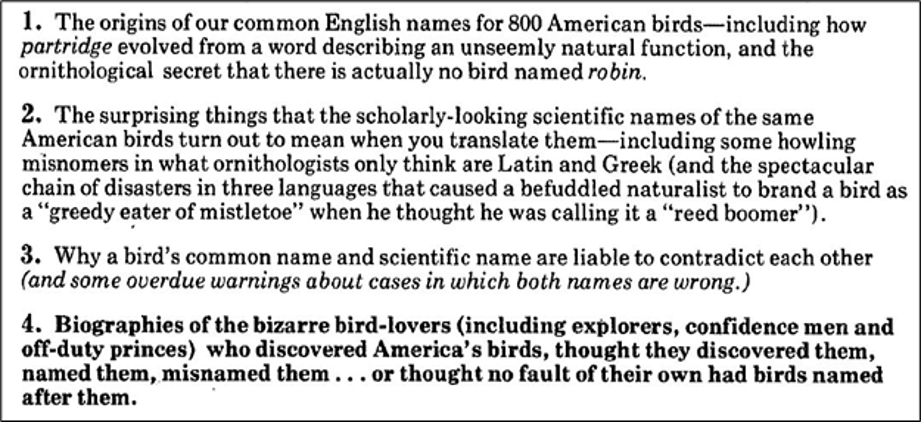 OK, now let's move on to…
SPORTS!
Again, these were the pre-internet, no-Google days so finding the curiosity-inducing facts took time and effort and made books like these much more desirable.
Here are a few of the bullets: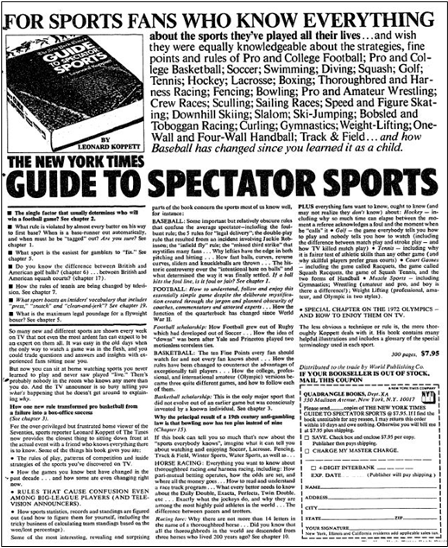 ◼ What rule is violated by almost every batter on his way to first base? When is a base-runner out automatically, and when must he be "tagged" out? Are you sure? See chapter 5.
◼ What sport is the easiest for gamblers to "fix." See Chapter 4.
◼ RULES THAT CAUSE CONFUSION EVEN AMONG BIG-LEAGUE PLAYERS (AND TELEVISION ANNOUNCERS).
BOWLING: Why the principal result of a 19th century anti-gambling law is that bowling now has ten pins instead of nine (Chapter 15)
HORSE RACING: Why there are not more than 14 letters in the name of a thoroughbred horse… Did you know that all the thoroughbreds in the world are descended from three horses who lived 200 years ago? See chapter 10.
Finally, let's see what Martin had to say about…
WORDS
It's uncanny the way these bullets can sneak into your psyche and tweak your curiosity about things you didn't even know were bothering you.
Some great examples are this ad for "The New York Times Everyday Reader's Dictionary of Misunderstood, Misused, Mispronounced Words."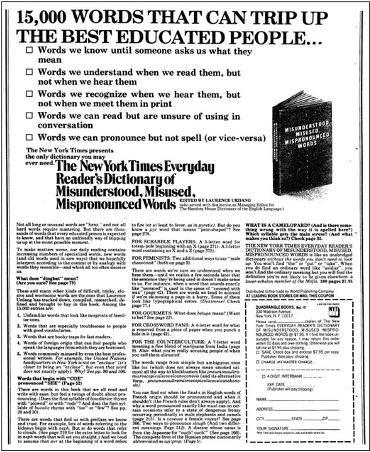 Here's a sample…
◼ Words we know until someone asks us what they mean
◼ Words we understand when we read them but not when we hear them
◼ Words we recognize when we hear them but not when we meet them in print
◼ Words we can read but are unsure of using them in conversation
◼ Words we can pronounce but not spell (or vice-versa)
Here are a few more, and notice how he eliminates objections from people who would ignore this ad because they already have good vocabularies, are fast readers, or are professional writers:
1. Unfamiliar words that look like misprints of familiar ones.
2. Words that are especially troublesome to people with good vocabularies.
3. Words that are booby traps for fast readers.
4. Words of foreign origin that can fool people who speak the languages from which they are borrowed.
5. Words commonly misused by even the best professional writers.
OK, that's enough food for thought.
And if you want to go deeper into Mel Martin's amazing bullets, apply for our FREE Business Analysis and strategy session. Just ask your coach, and it's yours for the asking.
In the meantime, happy selling!